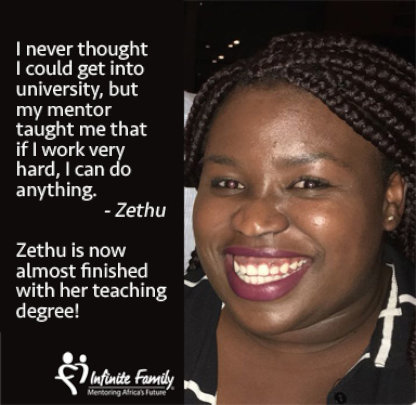 By the time Zethu was in the tenth grade, five and a half years ago, she'd given up on life. "I didn't think anyone was there for me," says the 23-year-old, who grew up in a group home on the outskirts of Johannesburg. "I never dreamed of going to university—I thought that was a place for kids who were smart." Grade ten was also the year that Zethu met her mentor, Paula. "She made me see how school would benefit me in the long run, so instead of dropping out, I decided to take one last set of tests, only to discover that I'd passed! So I decided to carry on with school."
Being a Net Buddy mentee changed Zethu's life in other ways, too. "It improved my English, and my writing skills, which helped me with my final exams." Indeed, Zethu now has a coveted teaching internship and is in her third year in university, studying to get a degree in education. "I never thought I could get into university, but my Video mentor taught me that if I work very hard, I can do anything."
Zethu has left the group home where she grew up and now lives on her own. She navigates the difficult and long daily travel across Johannesburg back and forth to college and has learned how to prioritize and organize her schedule to make the best use possible of her time waiting when buses are late or broken. It is an added disadvantage to live in a city and country where public transportation was never created in order to better control the 85% black population during apartheid.
But Zethu carries on and coaches her younger sister on how to prepare for the next phase of her life as they both strive to succeed in school and obtain jobs that will allow them to build better, self-reliant lives. While most other First Generation college students in South Africa struggle to accomplish their first year of college, Zethu has almost finished her degree. Knowing she has overcome so many obstacles along the way, one after the other, with Paula's support and encouragement continuing long after their formal mentoring days were past, Zethu is proud and confident that she will continue to move forward and achieve her ambition to prepare the next generation.
Thank you for making it possible for Zethu and hundreds of other South African students' to have the one supportive adult they needed to create new life-long opportunities through good decisions, future-forward actions and hard work throughout their teen years.
Please visit Infinite Family's new website at infinitefamily.org to read more success stories as they are published, and please follow us on social media @infinitefamily.
Links: