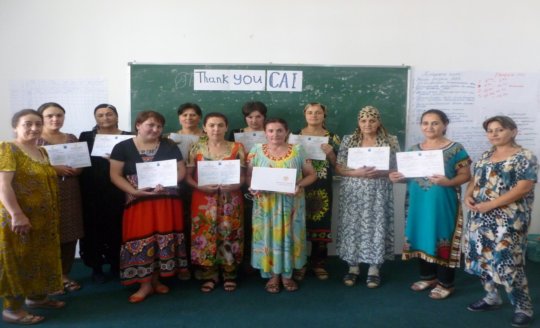 In 2014 alone there were over 13,000 terrorist attacks worldwide.
"They blow up our schools. They kill our teachers," said Muhammad Asif, a teacher at Khodi Dust Girl's Higher Secondary School, of extremists in the area. He teaches in a remote, conservative village in Afghanistan's Nangarhar Province.
"Things happen in other provinces and parents won't let kids come to school for weeks," he says.
The teachers of Khodi Dust kept telling Central Asia Institute that they felt the surest way to reduce support for militancy was education.
"Without school boys join fighting… We have to resist. There is no choice," continued Asif. "The only way to prevent Afghanistan from going backwards is education."
The school where Asif works accommodates 638 girls and 153 boys. The future of these 791 children is precarious, but with education their futures will be much brighter, especially if the girls are educated.
As women become more educated, they are less likely to support militancy and terrorism than similarly educated men, according to a University of Maryland School of Public Policy survey. The survey of Pakistani women also found that uneducated women are more likely to support militancy and terrorism than similarly educated men.
The impact is long-lasting. Young men and boys recruited by extremist groups are required to get their mothers' blessings before joining such an organization, or going on a suicide mission. So, girls who are educated - especially who complete secondary school - grow up to be mothers who are less likely to give their sons permission to pursue violent solutions.
The communities we serve are working tirelessly to provide their children with opportunities. Central Asia Institute will do no less.
To learn more about this issue and others be sure to sign up for our blog, Field Notes (https://centralasiainstitute.org/field-notes/)