An Old School Transformed
In 1989, Kindergarten #5 was a brand-new building situated in the center of Khorog, a sleepy little mountain town nestled in the Pamir Mountains. Back then, Kindergarten #5 was a state-of-the-art facility, especially for such a small community, and recognized by the locals as the "the best kindergarten in town."
Sadly, time hasn't been kind to Kindergarten #5. With more than 300 children aged 2 to 5 passing through its halls each year the school experienced a lot of wear and tear. Eventually, it fell into disrepair. The walls and floors rotted, windows cracked, and the sewer system broke. The building became a hazard. Someone needed to intervene. That someone would be Mahbuba Qurbonalieva, director of Central Asia Institute Tajikistan (CAIT).
In 2014, Mahbuba heard how desperate parents and teachers were to renovate Kindergarten #5. She jumped at the chance to help. With the help of donors from around the world, Central Asia Institute Tajikistan has since repaired the school's exterior, overhauled classrooms, replaced broken windows, fixed the sewer system, renovated bathrooms and kitchens, installed a boundary fence, and much more. Today, after all of the improvements, Kindergarten #5 is hardly recognizable.
Read the full story here.
Links: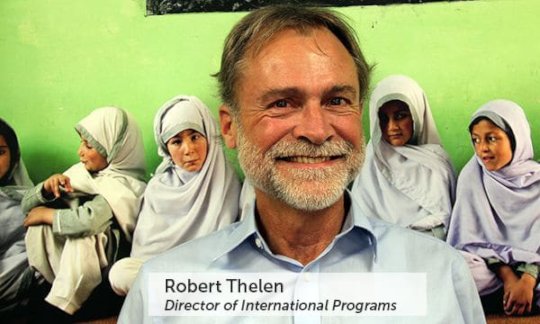 If you've read Three Cups of Tea, you're aware that Central Asia Institute was founded on the belief that sitting down with people and drinking tea together is the essential first step to accomplishing great things. Without those face-to-face exchanges, change is nearly impossible in that part of the world. Relationships of trust must be built before plans can be drawn for a new school, a teacher receives training, or a child walks into a classroom to begin her education.
In the spirit of our founding philosophy, Robert (Bob) Thelen, Central Asia Institute's new director of international programs, journeyed to Afghanistan and Tajikistan in November to meet with our partners, visit schools, and listen and learn from our colleagues on the ground and the people we serve. Bob is a veteran to international development work. He's lived and worked abroad for a good share of his career including three years with an international non-government organization (NGO) in Afghanistan.
Despite his familiarity with the region, the trip this fall had its share of adventure, beginning with the flight from Kabul into Ishkashim district, a remote province in the mountains of northern Afghanistan.
"We couldn't travel by ground because the roads aren't secure. There's a commercial flight, but that's also not safe. So we flew in a six-seater plane run by a company that flies NGO staff into hard-to-access locations. I sat in the co-pilot seat with oxygen tubes in my nose – we all had them in case the pilot needed to fly higher to avoid turbulence over the mountains. We landed on a short and bumpy dirt runway. There's only one flight a week." The time and risks involved in the journey underscored for Bob why support from Central Asia Institute is so needed. "These are places that don't get a lot of attention from the central government or the international community because they're so remote and marginalized."
Read Robert's full report here
Links: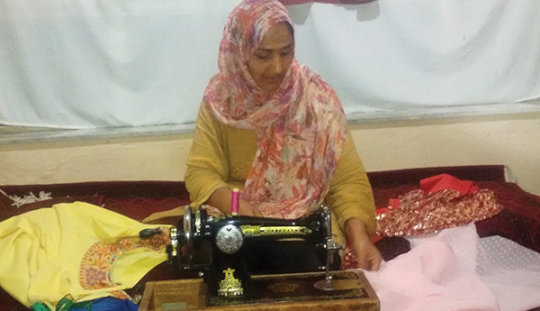 As a young mother in Afghanistan, Mah Jan shared the same worries as millions of women around the world who lack access to paid work:
How can I earn money for myself and my family?
How can I ensure a brighter future for my children?
How can I support the women and girls in my community?
Mah Jan's story is typical of girls born into poor, uneducated families in Central Asia. Her childhood years were difficult. Problems at home forced her to drop out of school in the seventh grade. She married very young and soon found herself with six children. She was expected to stay home, raise the children, and do the household chores. So Mah Jan made the only choice available to her; she put her dream of getting an education on hold.
On hold, but not forgotten.
Hope came alive again years later when, at the age of 38, Mah Jan enrolled in a literacy and vocational training program funded by Central Asia Institute. She spent nine months improving her literacy skills, then focused her attention on learning how to sew. Within six months, she had completed a tailoring course and was hired by the program staff to teach tailoring to other students.
Read Mah Jan's Full Story Here
Links:
WARNING: Javascript is currently disabled or is not available in your browser. GlobalGiving makes extensive use of Javascript and will not function properly with Javascript disabled.
Please enable Javascript
and refresh this page.