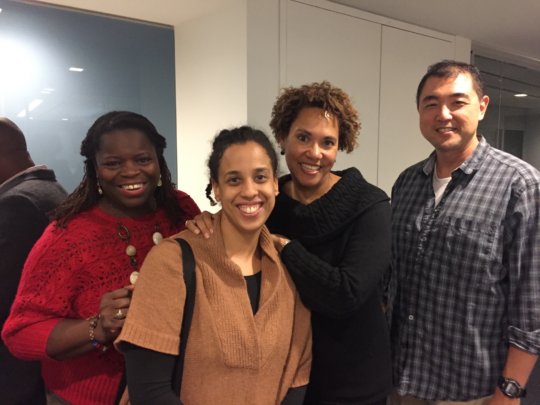 ICAP Holiday Celebration
ICAP hosted the annual holiday celebration sponsored by the UN Foundation on December 8, 2015. While the program was smaller this year, ICAP fellows caught up on everything from new jobs to family additions. Board members received feedback on planned programs. Continue to check the website www.icapaa.org for Alumni programs throughout the year.
Don't forget the ICAP 2016 Fundraising Campaign on Global Giving is ongoing. ICAP 2015 was made possible by the generosity of alumni and senior mentors, faculty and friends. The ICAP 2015 class has stepped up to the plate and pooled over $12,000 by tapping into employee matching gift opportunities. To date we have received $3,850 in donations through the Global Giving platform. The goal for this year's individual campaign is $50,000. We have a long way to go but there is an opportunity this coming March to rally. On March 16, Global Giving will launch the first pro-rated bonus day of the year. We ask that all ICAP fellows support this matching campaign at 9:00am on March 16. Last year we were able to raise over $10,000 in matching funds through the Global Giving platform. Your donation either big or small will be matched and will help us continue the ICAP program.
ICAP Alum in the News:
Linda Etim was sworn in as USAID's Assistant Administrator for Africa in December 2015. In this capacity, she is responsible for more than $7 billion of assistance funding to 46 countries, in 29 regional and bilateral missions across sub-Saharan Africa. She recently spoke to African –based journalists at the 2016 African Union Summit alongside Assistant Secretary of State Linda Thomas-Greenfield. Both Senior Officials discussed perspectives o topics such as competition between China and the United States in Africa, conflict in Burundi, democracy and good governance and the Obama Administration's U.S.-Africa policy legacy.
To read the coverage in full check out articles:
http://www.starrfmonline.com/1.8666979
http://www.state.gov/r/pa/ime/252353.htm
"Zika virus makes a longstanding public health crisis impossible to ignore" published in the New York Times by ICAP Alum Latanya Mapp Frett
With many ICAP fellows living abroad we continue to follow critical health outbreaks both internationally as well as in the United States. In the Op-ed, Ms. Mapp Frett argues, "We can no longer afford this state of denial. Urging women to avoid pregnancies indefinitely is not a realistic solution to a public health problem." To see some of her suggestions and to read the full article see link below:
http://nytlive.nytimes.com/womenintheworld/2016/02/08/zika-virus-makes-a-longstanding-public-health-crisis-impossible-to-ignore/
Save the Date
The Conference on Diversity in International Affairs: Friday, April 15, 2016- Saturday, April 16, 2016
Looking Ahead to Two Decades of Achievement
Next year, ICAP will celebrate 20 years of impact. Launched in 1997, ICAP provides a support network, career advising, mentors, policy and research background and assistance in order to help promising professionals have a more effective voice, achieve their potential and assume leadership positions in international affairs in the United States, in both the public and the private sectors.