Dear ICAP Supporter,
In its 20th year, the International Career Advancement Program (ICAP) is again accepting applications for the 2017 ICAP class!
With over 470 alumni, ICAP has helped its participants advance to senior positions in all employment sectors, from US Ambassadors at State to executive directors of non-profits to chief executive officers of private businesses. The training includes an introductory day in Washington, DC, taking place on September 16th, and a week in Aspen, Colorado, with career advising, peer support, senior mentors, workshops on leadership and policy discussions from September 30th to October 8th.
The program accepts applications from mid-level professionals during the spring each year. Applicants should be professions who:
Have a demonstrated commitment to increasing the diversity of senior leadership in the United States in international affairs
Are US citizens or permanent residents
Are professionals who have been or are now in international careers, with 5 to 15 years of work experience
Have an interest in a long-term career in international affairs
Have credentials and achievements that demonstrate potential to serve in the highest levels of administration and policy making
Have recommendations indicating unusual promise for leadership
Are committed to mentoring those junior to them in international affairs
As supporters of ICAP we would love for you to spread the word far and wide to as many potential candidates as possible. Applications close next week on May 31st.
Links:
Attachments: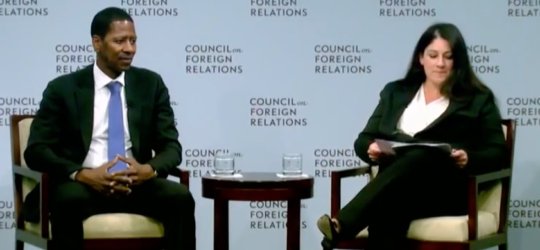 The 2017 Conference on Diversity in International Affairs (CDIA) was held at the Council on Foreign Relations in Washington, DC on April ,28- 29 2017. In its 5th year, the conference continues to be a collaborative effort by the International Career Advancement Program, the Council on Foreign Affairs, and the Global Access Pipeline project. As Jim Lindsay, senior vice president and director of studies for the Council on Foreign Relations, said in his opening remarks, this conference continues "to advance the effort to diversify the American foreign policy community so it looks like America."
This year's feature keynote speaker, Calvin Sims: President and Chief Executive Officer, International House; Former New York Times Reporter; Former Ford Foundation Executive, gave the audience some inspiration on how to create space and the need for mentors, "You also have to figure out what the game is, because a lot of times nobody is going to tell you. And you can't get upset with those folks who are playing the game and being successful. You have to figure out what it is that actually impresses people… And you also have to think about, what is the mentor looking for in you? They're going to invest in you, they're looking for some return down the line. And so as well, when I do my mentoring, I make it clear to those who I mentor that I expect you to do the same thing."
This year's event included over 300 participants from across the country, including young people interested and studying international affairs, senior executives and foreign policy subject matter experts. The two days concluded with the 2017 ICAP mid-year reunion and the announcement of ICAP Alumni Association Annual Diversity Award Recipient, Farrah Barrios, Staff Chief in Office of Budget and Program Analysis, at the U.S. Department of Agriculture, (ICAP 09).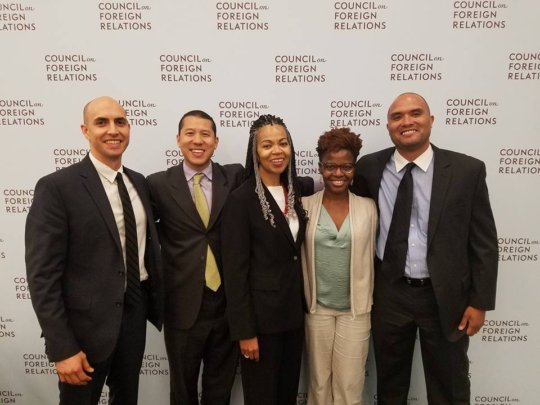 Links:
Dear ICAP Donor,
As we begin to wrap up the first quarter of 2017 we wanted to share with you some updates that the ICAP Alumni Association are doing to progress diversity in international affairs forward:
New Executive Director
Ambassador Deborah McCarthy has joined the ICAP Alumni Association as the New Executive Director. Over the last few years the volunteer program team led by the Board of Directors has maintained a high-level of alumni programming for ICAP fellows to continue to grow the network. We are thankful for their contribution and their continued efforts to provide enriching programs for our membership. With new staff we hope to continue expand the primary efforts of the Alumni Association including expanding programming for you the members of the ICAP Alumni Association and continuing to raise funds for the ICAP Aspen Fellowship Program. In order for us to understand your needs we ask that you complete the survey sent to the membership through the ICAP listserve.
ICAP Alum in the News
Latanya Mapp-Frepp, Executive Director, Planned Parenthood Global, spoke with Women Deliver on the need to respect and protect women's sexual health and rights.
Eric Ham, political analyst and author of The GOP Civil War, discussed General Flynn's resignation from the Trump Administration with the BBC News Channel.
Lia Miller, Cultural Affairs Officer, U.S. Embassy Bolivia was interviewed by Women in Foreign Policy, where she discussed her experience as a Pickering Fellow and the ICAP fellowship.
Please see the links to the news articles below.
Save the Date
This year's "Conference on Diversity in International Affairs" (mid-year reunion) scheduled for April 28-29, 2017 at the Council On Foreign Relations.
Links:
WARNING: Javascript is currently disabled or is not available in your browser. GlobalGiving makes extensive use of Javascript and will not function properly with Javascript disabled.
Please enable Javascript
and refresh this page.