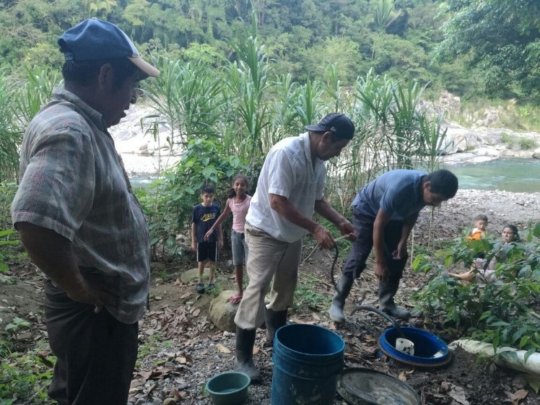 Among the communities in the Cangrejal Valley, El Pital has been the community with the poorest access to basic services. Until recently, it did not have an adequate graywater system to cover the demands of the area's rapid population growth. For several years, diseases struck this community heavily, culminating in health crises such as dengue, zika, chikungunya and malaria epidemics.
Both, Water Board and community members consider that an adequate graywater system is not only important to avoid the outbreak of epidemic diseases, but also to avoid contamination of the aquifer. This becomes of utmost importance since the community is located on the banks of a main river, and it is the source of properly treated drinking water for communities. They also believe that the served population must be educated in waste management, cleaning and general maintenance of their graywater system.
Carmindo (65-years old), member of the Water Board of El Pital, commented that "…after making an evaluation of the Water and Sanitation project and applying a community survey, we decided to carry out different micro projects in sanitation training and management of graywater systems, dry baths, ecological stoves, and reforestation of the basin". In the first weeks of March 2017, preparations began for the implementation of the "School and Healthy Home" program (ESCASAL) - a comprehensive program that covers all areas around a water project (management, health, and environmental health, law, sustainability, and others). The training is offered to the Water Board, community's residents, and schoolchildren.
Carmindo continues to explain that, "This year we have many challenges, ahead since we have already completed the design of the drinking water project for the village, and we are looking for more support to conclude it. We are also strengthening the leadership of our Water Board with training and sharing of experiences. Our communities will have the necessary knowledge to maintain environmental sanitation in their homes, schools, churches, and in the community in general".
"Thanks to the collaboration of volunteers and donors, we have been able to build and rehabilitate the graywater system in the community of El Pital, which is an eco-friendly graywater system, and is a model for other communities in the area. This makes us feel very proud. We are sharing our experience and knowledge with other communities that want and need to build a system like ours. We hope they continue to support us so our children, young people and women have a better standard of living", concludes Carmindo ".