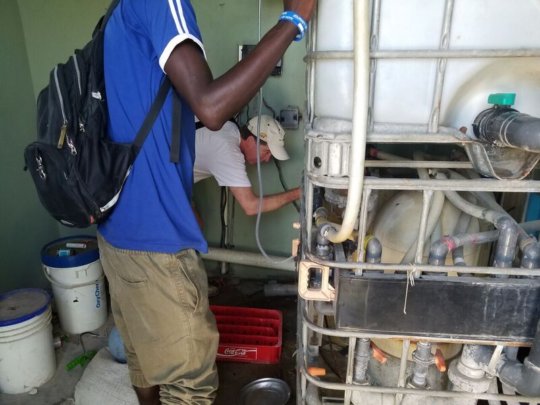 Dear Friends,
We first want to extend our thoughts to our friends, family, colleagues and neighbors in the Caribbean. It has been a very difficult few months and we wish for better days ahead very soon.
This past August we installed new Wi-Fi router which connects to the cloud. This more powerful router allows us to run the educational portion of our program for the children via streaming video. The educational component is crucial to our success in that we hope the children will grow to understand healthcare from a science, anatomy, wellness, nutrition, physical and economic perspective.
Our team also visited Mission of Hope Hospital which is directly across the street from Fondation Montesinos. It is an impressive facility- a full service hospital with x ray, emergency, optometry, dental, ObGyn, cardiology, pulmonary, lab and internal medicine departments, as well as a prosthesis lab and much more. They have access to a central sterile facility which will help our small clinic manage any procedures we need to do at our site. We created an agreement in which MOH will provide any necessary care that our partner, PoumonTEK is not able to provide, for a small monthly stipend, and they will in turn use our Sho-Ping Clinic for Healthcare and Education building for some of their community-wide education programs. MOH is also going to do complete blood work on the children to determine past vaccination history and then supplement as needed.
Apparently the children's dental health is very bad which can affect cardiac health as an adult. Our water engineer who came our most recent trip thinks it is possible there is naturally occurring fluoride in the water at excessive levels which is degrading their teeth (a little fluoride is good, too much is apparently really bad). He also tested the salinity and it's very high. MOH will start to address the children's dental health immediately in their dental clinic.
Our Water Engineer assessed the situation, and gathered lots of data with the help of our General Contractor who also met us on site during our latest visit. He now has volume and use data, understands the layout of the existing and future buildings and can design the new system. Our Engineer is also training our on-site support staff, how to maintain the system so we won't have to worry in the future about the system falling into disrepair which is what caused the old one to fail during hurricane Matthew.
The team also review the design documents and materials are being secured for the work.
We also met with an attorney who will help us with the process of forming a Haitian Foundation so that we can apply for in-country grants as well.
PoumonTEK also provided their two year vision for the future for the children which includes not just educational videos but work with a sports medicine doctor on fitness. Additionally, they are focusing on dental health, hygiene, and eye care to protect from sun damage.
And finally, PoumonTEK has arranged for Christa, the little girl with the club foot who is in our care and has sadly become increasingly withdrawn, and is suffering badly, to have the necessary surgeries at a nearby hospital. To our donors who may want to support this particular mission, we still need to raise $1500 to pay for round the clock nursing care post-surgery.