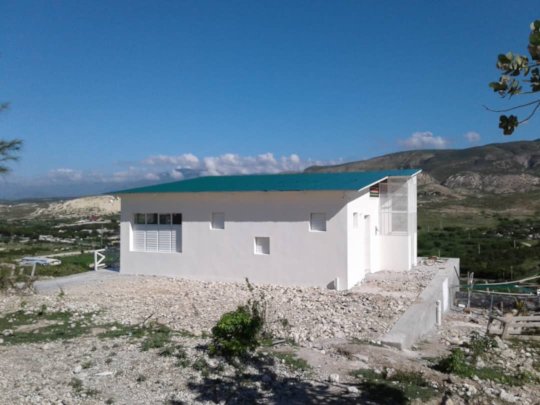 Hillary Clinton once said: "Our greatest monument on this earth won't be what we build, but the lives we touch."
About two years ago we spent several days with the children of Fondation Montesinos, in Titanyen, Haiti, asking them what they thought a building of wellness should look like. They inspired us and helped us build a beautiful building, that is, more importantly, theirs. This past September we opened the doors to the Sho-Ping Chin Clinic for Healthcare and Education, named for one of our co-founders who died in 2016. Through this building and our programs, we are teaching a generation to take responsibility for their own well-being which will create a sustainable healthcare model, and will affect long term change for future generations.
We held a dedication ceremony on September 28th, attended by Sho-Ping Chin's family and Friends, as well as the family of some very special donors. Sustainable Healthcare for Haiti is fortunate to be a part of the partnership that this building represents. It may look small and unassuming but it is powerful because of the lives it will allow us all to touch. More than ever, we believe we live in a global society and it is all of our duty to help strengthen our neighbors when they are vulnerable.
Word of this new clinic building has spread and we are developing partnerships with several new organizations to ensure that all of the children who come to the school, as well as all of the residents of the community, have access to high quality and consistent healthcare.
Thanks to the connections of one of our Board Members we were introduced to Northeast Haiti Missionary, a group of medical practitioners in the Connecticut area who have run medical missions to Haiti in the past. We are excited to announce that SHH, PoumonTEK and NHM will be partnering on a medical mission in January that will focus on the 600 children who come to school at Fondation Montesinos from the surrounding community.
We would like to include below excerpts from the speech given at the Building Dedication. For those who could not attend, but would like to join in the celebration, we are holding a cocktail party on December 13th at The Social Restaurant in Newton, MA at 6 PM. All are welcome.
Excerpts from Speech Below:
Today I'm speaking on behalf of Sustainable Healthcare for Haiti whose Board includes:
Lee Silverstone and Lyris Liautaud who are here today as well as Gerard Georges, Cassie Grey, Carolyn Hern, Anthony Ishak, and Margaret Woodruff who all wished they could have been here.
Sustainable Healthcare for Haiti was founded 9 years ago. Some of our earlier projects included drilling a well to provide clean water to 400,000 residents who had moved to an area after the earthquake that had no source of clean water. Since then and along with our partners we've been providing healthcare for children including primary care, OBGYN, dental, optometry, nutrition and sports medicine programs. We also supported disaster relief after Hurricane Matthew. All of the services were delivered in temporary spaces and now there is a home for the wellness programs thanks to everybody standing here today and all of our extended supporters.
And I want to speak about our partners as well.
Sho-Ping Chin
The building is named after our co-founder, Sho-Ping Chin, who died in June 2013. Her family is here and will speak more about her personally, so I'm going to speak about her as part of SHH. It was a joy to be on this journey with Sho-Ping in every way. As a partner, she knew when to say "yes, let's go," knew when to say "hold on, let's think about this," knew when to say "THIS is how we are doing it." She put the word and the meaning of "sustainable" into our organization which has guided us throughout the 9 years we've been working together. We think about sustainability in our building, our operations, our footprint in the community and our outcomes. We all miss her and we hope she would be proud of this accomplishment.
Poumontek
Sandra and Reginald and Dr Joey, who are here today, are our partners in healthcare and wellness delivery. While I could talk about how impressive they all are with their medical knowledge and experience, I'd rather just say that we've found our soul mates when it comes to caring for the children here.
The Alphonse Brothers
Stephane and Wendell who are here, are the ones who literally get everything done on the ground. If we ever need anything, all we need to say is "call the Alphonses." They are two of the most resourceful, kind and fun people to walk this earth.
Tecina
Lionel Bauduy, who is here, built this building. All I can say is, he not only provides us with a true place of comfort overhead but it's a joy to spend time with him and talk about everything from construction to politics.

RDF Corporation
Shyang Puri and Derzen Fan who are here, on behalf of Leah and Naresh Puri, our wonderful donors who believe in us on every level. Sometimes when it's hard to know what to do next, all you need is someone saying "we believe in you" and then the path opens up. We thank RDF for helping us find the path.
All of our other donors who are too numerous to name and cannot be with us today, we are humbled by the trust they have put in us.
Environmental Products
Jim Ellis, who is not here but visits often, brought us water. And water is the source of all life.

Father Charles
He is the heart of this campus. He is the driving vision behind change and represents hope for not just the children but for all of us.
And speaking of the children,
The children are the guests of honor. About two years ago we spent two days with all of them asking what they wanted their building to look like. They inspired us and made this building not just better but more importantly, theirs. There are some important things I will point out in this building because the children are the ones who created it out of their own imaginations. This is all for them and for a healthy future for generations to come.