We thought you would be interested in an update on some of our previous university scholarship recipients.
Kawkaba studied at the Teacher Training Institute with a one year scholarship from us she now works in Kabul.
Fariba went to Herat University with the help of a one year scholarship and is now studying medicine at Ghalib University.
Jamila studied economics at Herat University and is now a finance manager at a clinic.
Masuma studied Biology Chemistry with a 4 year scholarship at Herat University and teaches at a high school.
Homa studied English with a 2 year scholarship she is now a housewife.
Bahara studied law and political science with a 2 year scholarship at the American University and went to the USA to continue her education.
Education gained! Lives changed! Opportunities in life for young people!
Thank you for your support.
SDG Goal 4 – Ensure inclusive and equitable quality education and promote lifelong learning opportunities for all.
Dr. Yacoobi's radio station, Radio Meraj, continues to provide quality programs, with the purpose of enlightening the minds of the 2 million people in its broadcast area of Herat. Listeners gain information and answers to their problems as well as directions on how to seek assistance with issues they face in their communities.
Lawyers from the free AIL Legal Clinic appear on the radio weekly to educate listeners and take their legal questions. There are also appearances by a variety of guests such as the Governor of Herat, members of the Peace Council, the First Lady of Afghanistan and representatives from various Afghan ministries and organizations.
Radio Meraj continues to be a service dedicated to aiding Afghans to take a greater role in society and advocate for themselves in their communities. Here is the story of a Meraj listener: Elyas said, "Once there was a bird seller who was involved in the illegal business of birds. He captured rare bird species in Afghanistan and exported them abroad. I called Radio Meraj and explained the situation to your guest speaker from the police department. Then the environmental administration section launched an operation to free the captured birds and closed down the bird store legally. Your follow up procedures worked! Thank you Meraj radio for your excellent programs."
Thank you for your continued interest.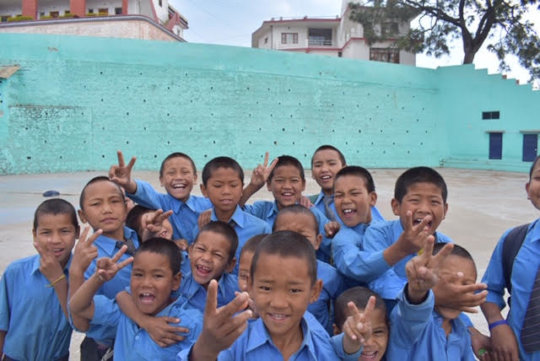 Matching Funds available TODAY ONLY!
$100-499 donation 15% match/$500-749 donation 30% match/$750-1000 donation 50% match
You can donate to CHI and AIL and get a match for both.
New monthly donations (active 4 months) up to $200 per donor per project get 100% match!
The Bon Center cares for 230 students who come from communities in Tibet, Nepal and India. Most come from villages where people are poor, illiterate and there are no educational resources. The students remain closely connected to their home lives and are taught to appreciate all people no matter their backgrounds.
Here are some thoughts from one student," Most of the Bon children come from poor and remote villages. I do not think I am unlucky to be born to a poor family. Poor people are very sincere, faithful and honest. They live simple lives but with high thinking. They are kind and loyal to each other. They think about other people's troubles and try to help. They are looking for ways to develop the village to improve things for all. So, if we are born poor it is not unlucky but to die poor in spirit and living is our error.
Thank you for your support.
CHI is working towards SDG Goal 4
Ensure inclusive and equitable quality education and promote lifelong learning opportunities for all
WARNING: Javascript is currently disabled or is not available in your browser. GlobalGiving makes extensive use of Javascript and will not function properly with Javascript disabled.
Please enable Javascript
and refresh this page.