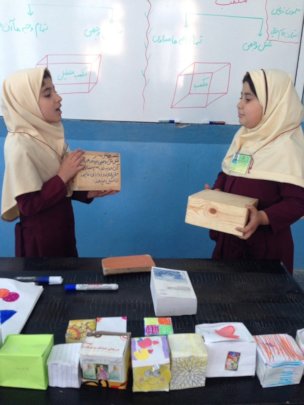 AIL's project 1155 Fast Track Education for Afghan Women and Girls has a chance to win a place in the GlobalGiving Girl Fund!
Donate to project 1155 today and help us get into the fund which provides monthly funds for a whole year! The more people who donate the better our chances!
This project provides funds for poor Afghan girls to attend school or high school and young women to attend university. Getting a quality education opens doors for children to better lives through opportunity, employability and greater capacity with mental skills such as reasoning, critical thinking and problem solving.
Here is the story of one girl attending a high School: Kavoos is a 15 year old girl who is very interested in learning. She wants to become a teacher. She lives in a village near the school and has been there for 3 years. Her father is a farmer and works on land by the village. He gets some income which provides for the basic needs of this family. Kavoos' mother also does chores at the master's house. She cleans, cooks and takes care of their stocks. Unfortunately, their combined income does not cover the cost of school fees and they removed Kavoos from school. She was sad about this. She told her teachers and asked for their help to get her back to school. She was delighted to be given a scholarship. Kavoos said, "School is a hope and an opportunity for me and my family. Thank you to my teachers and Professor Yacoobi for giving opportunity to poor children in this country. I can continue my education and become someone in the future."
Thank you for your support.
SDG Goal 4 – Ensure inclusive and equitable quality education and promote lifelong learning opportunities for all.
There are 106 boys and 60 girls at the Bon Center, numbers do fluctuate during the year. The students enjoy a variety of taught subjects and activities as well as sports. One class activity they are encouraged to do is to be thoughtful and reflective of their experiences.
Here are the comments of one student, "I always try to be content and remember we have been given enough for our needs and not to be greedy. Good habits help stop negativity. We learn many things at the center as well as how to be a good person and to help others. I am trying my best."
The photo is of some girls receiving winter vacation gifts, a joyful time.
Thanks for your support.
SDG Goal 4
Ensure inclusive and equitable quality education and promote lifelong learning opportunities for all
Follow Sakena Yacoobi on Twitter.
Like our Facebook page!
Here is an update on how some of our former scholarship students are doing.
Mortaza is 25 and studied law and Political Science at Jami University. He received a scholarship for 43 months and now works for AIL in Herat.
Ehsan studies photography with the support of a one month scholarship. He works as General Academic Advisor at AIL, Herat.
Ahmad went to the Asia University and studied economics and management. He had scholarship support for 19 months and is now finance manager at a Yacoobi private high school.
Yagana went to Herat University and studied science and chemistry. She is director of administration at an institute.
Farzana studied midwifery at Atelfi Insitute and received scholarship support for 20 months. She teaches at one of AIL's Learning Centers.
Fariba went to Kahkashan Sharq University to study English on a 20 months scholarship. She now teaches at an AIL Learning Center in Herat.
Thank you for your support for these young people who are now gainfully employed and supporting themselves!
The year end newsletter for CHI is attached.
SDG Goal 4 – Ensure inclusive and equitable quality education and promote lifelong learning opportunities for all.
Attachments:
WARNING: Javascript is currently disabled or is not available in your browser. GlobalGiving makes extensive use of Javascript and will not function properly with Javascript disabled.
Please enable Javascript
and refresh this page.