Dear Friends,
Thank you for your generous support! Creating Hope International is working with our Afghan partners to select a deserving student to receive the scholarship you helped to fund for this school. We will update you as soon as we can with information about the student who receives this scholarship.
The scholarship students are always delighted to receive support as this student said, " I am in the ninth grade student of Prof. Sakena Yaccobi School I got a scholarship and it played a major role in my life. I can study with comfort and relief in my mind now because my poor father was not able to support my school expenses. Moreover, this scholarship has great positive effects on me and caused me to work even harder at my studies. There is a great leadership class at the school for the top students who are allowed to take the class for free and I am one of the participants."
Again, thank you for your kind donation. This scholarship will allow one poor student to receive an education that they wouldn't otherwise have access to. Your donation will help to change the course of one young Afghan's life.
Thank you.
We are very grateful for your interest in the Tibetan Bon people and their hopes for education for their young people. Students arrive at the center from remote places in Tibet, India, Bhutan and Nepal where education is difficult to obtain. Students recently received new uniforms. During the winter vacation the girls were taught English by one of their teachers.
Here is the story of one young boy:"Here is my experience from Class 1 to 7. When I was in my village with my parents I used to go to school and learned our language for 2 years. I was 5 years old. Then there was a break of 2 years due to family problems. I rejoined the same school for 1 more year and passed Class 3.
My brother then sent me to the Bon Center for further education. I am the first child in our family who has got a formal education in school. I came to the center because there is no school in my village where a poor child can get a good, modern education like I am getting at the Bon Center. The center is my second home, my second family. From the day I arrived someone came up to me and asked my name and from then on he has taken care of me like a big brother. That is what it is like here."
Thank you for your support
CHI is working towards SDG Goal 4
Ensure inclusive and equitable quality education and promote lifelong learning opportunities for all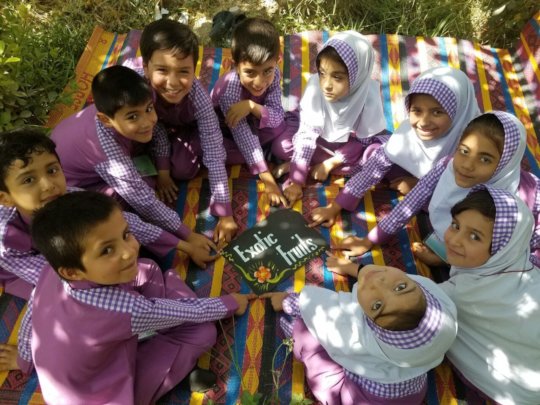 The students started a new school year in April. The scholarship recipients are very excited to attend a good school with all the appropriate uniforms and supplies. They know without assistance it would not have been possible for their families to afford a quality education for them. The photo is of some of the youngest students.
Here are comments about the two year Leadership Class at the private school. This is attended by select older students ages 12-18.The class is the sort of quality program the scholarships give poor children access to.
"It has been proven that people are influenced by their surroundings and by engagement with others who can have a big impact on them, their success, behavior and habits. The leadership program organizes meetings with successful people so that, the students get motivated through speaking with them. In the last month the students met two well- known leaders. The purpose of these meetings was to make the young leaders understand their place and create a pattern for themselves. The students introduced themselves and their programs and asked questions about the ways of reaching high positions of leadership and also the challenges that exist along the way. The students took notes and added them to their plans."
News
Dr. Yacoobi joined with high level national and international delegates in the "Seville Commitment" - Supporting Localization Efforts for #SDGs. She said, "AIL has provided SDG services to the most marginalized and disadvantaged for 25 yrs. In my talk I emphasized it is essential to work with local governments and provide resources to local NGOs who are doing good work. Replicate excellent SDG focused programs so No One is Left Behind!"
Thank you for your support
WARNING: Javascript is currently disabled or is not available in your browser. GlobalGiving makes extensive use of Javascript and will not function properly with Javascript disabled.
Please enable Javascript
and refresh this page.