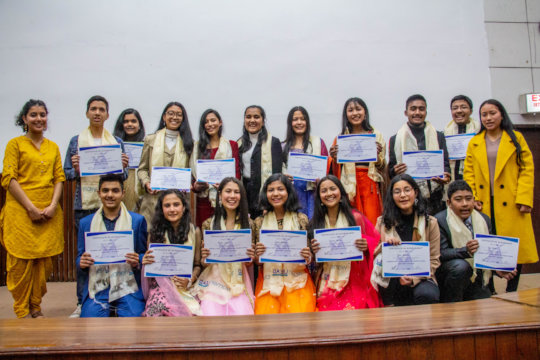 Thank you so much for all of you who donated to our Girl Fund campaign to support the next generation of boy and girl leaders in Nepal. We're happy to announce that we were able to raise $1793 from the campaign which will make a huge positive difference in the lives of boys and girls in Nepal.
Since our last update, Women LEAD has empowered 272 boys and girls with skills in leadership and knowledge about key topics such as public speaking, gender stereotypes, youth issues and sexual and reproductive health through our School Leadership Program (SLP).
Through the program, which is facilitated by our 2019 LEADers (girls in their final year of high school) our girl and boy participants not only gained this new knowledge and skills, but new female role models to look up to.
In late February, our SLP participants graduated and shared their reflections about their experiences during the program:
"Through the SLP, I learnt how to solve problems and study well. If I didn't attend the program, I wouldn't have been utilizing my weekends in a good way. Through the program I have also learnt to be self-motivated and confident. I used to be shy but now I can speak in front of all of you" - Smile, SLP Student.
"Women's empowerment is crucial for the development of Nepal. Not only females need to be part of it, but men also- everyone needs to be involved. The entire society needs to learn to respect the dignity, existence and value of women and unit to support them" - Jessica, SLP Student.
Our 2019 LEADers also shared how the program has helped them to grow their leadership skills:
"SLP makes a student look differently towards the world and their process of learning. I enjoyed the journey of teaching students and also getting to learn from them" - Apsana, 2019 LEADer
Now that our SLP students have graduated, we can't wait to see how they will continue to utilize the learnings they have gained in their schools, families and communities.