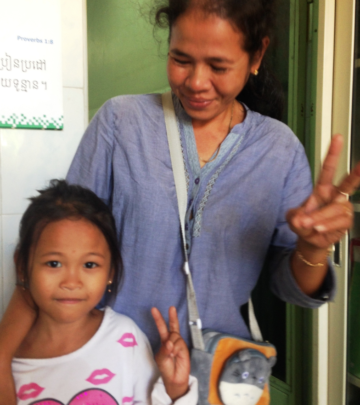 Hello from the Sihanouk Hospital Center of HOPE (SHCH) and thank you for supporting our project! Your donation is helping people living with HIV (PLHIV) to live full and active lives, with support for medication, nutrition and social support services.
We have a wonderful story of transformation and growth to share with you. Our client Kunthea*, 36, was diagnosed with HIV three years ago, but with support from our Home Care Program, she overcame her challenges and has now graduated from the program and is living independently.
When Kunthea was diagnosed, her husband refused to be tested himself and vanished from her life, leaving Kunthea to raise their three children alone while also caring for her elderly parents. Kunthea worked through her feelings of worry, fear and shame, along with the stress of providing financially for her family and maintaining a secure home and shelter for them. 'I carried such a heavy burden at that time,' she said. 'But I knew that if I didn't strive to overcome my difficulties, my family would suffer and they would never smile again, the way they do today.'
Kunthea worked hard to turn her life around. With high quality HIV medicines, positive prevention programs, and social support services from the Home Care Program, Kunthea was able to maintain a good standard of health, which enabled her to work as a cleaner and earn income to support her family.
'My family has enough food to eat now because I have been able to go back work,' Kunthea explains. 'They no longer have to struggle with food or shelter, and my children do well in school because I am strong enough to care for them. I'm so grateful for the care we received and the opportunities it gave us.'
Kunthea is just one of hundreds of clients supported by the Home Care Program every year. Your donation to our project helps these clients to overcome the barriers of illness, stigmatization and poverty. We are deeply grateful for your contribution.
Thank you for your support.
*Names changed to protect patient privacy