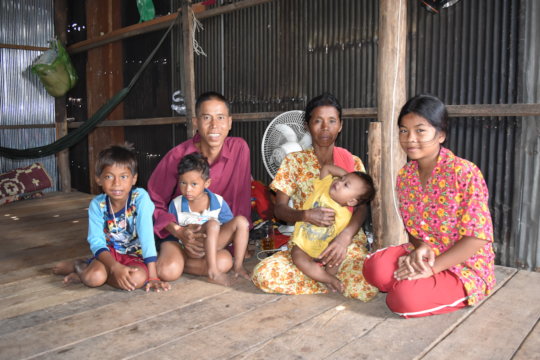 It is with a heavy heart that I must inform you the Home Care Team project is ending. Every year for the past 10 years, HCT has supported 400 Cambodian families effected by HIV. Since 2007, the team has helped communities fight stigma, helped people living with HIV find jobs, helped their children attend school, and helped families regain their strength.
As we speak, team members Chhavelith, Chanta, Pu Vichet and Mith are wrapping up their cases and referring patients to appropriate resources. They are bidding farewell to the communities they have joined and supported as part of the Home Care Team.
As you may already know, funding for HIV projects in Cambodia is dwindling. Home Care Team was lucky to be one of the last remaining community HIV projects here. Unfortunately, our major donor had to pull funding at the last minute, leaving the team without a backup and without the means to continue the work. We are hopeful that in the future, funding can be secured again and the project can be re-instated. I have seen first-hand how valuable this resource is to the community.
Just two weeks ago, I joined our outreach team to meet one of the most remarkable cases of TB/HIV recovery I've seen in my entire career. Koerng, 37 years old, had suffered from HIV/TB coinfection with no support for far too long. With 4 young children to support and a wife also living with HIV, Koerng was distraught and overwhelmed from being unable to support his family.
When he was referred to the Home Care Team, he was rail-thin, unable to work, and emotionally and physically exhausted. His wife was convinced her husband would soon die, and she had begun preparing for the worst.
In just a few short weeks, Home Care Team connected Koerng to appropriate treatment to fight off his TB infection. The family were provided with nutritonal support - especially vital for Koerng to regain his strength - and Koerng made what can only be referred to as a miraculous recovery.
While the project will be ending and the loss to the community is palpable, it does not change all of the incredble work that has been done in the past 10 years. Patients like Koerng would likely not have survived without Home Care Team. For every dollar you've donated, you made a difference. You prolonged the project just a little bit longer, and you saved lives because of that.
From the bottom of our hearts,
Thank you.