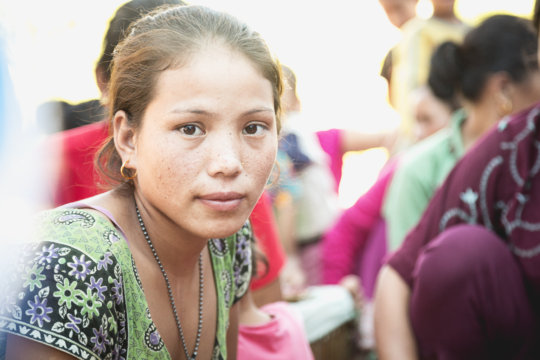 In post-disaster settings, education is not the standard form of relief.
Then again, Aura Freedom has never been about adhering to the status quo. After all, it is only when the status quo is challenged that true progress is made.
After the 2015 earthquake in Nepal, our Female Friendly Spaces (FFS) have done just that for countless women and girls.
In a time of incomparable suffering and despair, the FFS have been a place of refuge for these women. A place to feel comfortable and safe. A place to report violence and seek access to services. A place to learn new skills and become educated on their human and legal rights and the dangers of such cultural practices as child marriage, of which many of these women had been subjected to.
Since the opening of our very first FFS, women and girls have continued to open up to us about the violence and abuse they'd endured in silence for so long. Victims of trauma are now receiving counselling. Those in need of medical care or legal assistance are now gaining access to those services. Attitudes towards gender-based violence, child marriage, and equality are shifting.
Change is happening right before our eyes.
Take Anita, for instance. At 15 years old, Anita and her baby daughter (photo below) were rendered homeless by the earthquake, forcing them into a crowded displacement camp. Attending our FFS every day, Anita has gained critical knowledge on health, family planning, human rights, and gender-based violence, including the dangers of child marriage. She also participates in literacy classes and receives life skills training.
While child marriage was a reality for Anita, the awareness she has gained through the FFS workshops has empowered her to change that for her daughter and, in doing so, help break the cycle of poverty, inequality, and violence.
We are blown away and deeply moved by the dedication of these girls and women who have spent endless hours in our FFS. This has also contributed to an overall heightened sense of camaraderie and sisterhood among participants.
We have now seen firsthand that educating women and girls on their human rights empowers them to resist the long-standing societal norms of gender inequality and the resulting implications, including violence and harmful cultural practices.
And when women win, everyone wins.