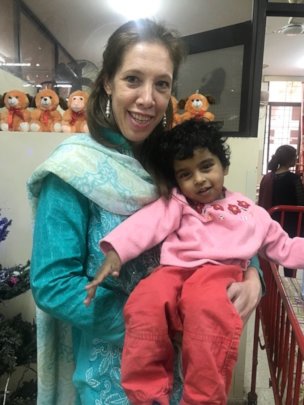 We give out teddy bears to tots and orphans struggling. We are focusing on a drive for handicapable orphans at Darul Sakoon orphanage, a very special place that looks after the most vulnerable in Karachi.
Last Christmas, we shared the story of Cheryl, just 3, who lay dazed in her cot, not knowing what Christmas was although she was a Christian. Handicapable and not fully alert, she relies completely on the nuns and care at this orphanage that looks after 180 Christian, Hindu and Muslim orphans, most of whom are handicapable.
We've created a new mini project in order to distribute teddy bears and meals on Eid day, a religious festival. Last Christmas, we were able to gift all 180 orphans teddy bears, chocolates and hot cross buns. This year, we're beginning with our initial target of 100 orphans for $1500, but it would be wonderful if we could raise the full $2700.
We are remembering Cheryl's smile as we handed her her first chocolate bar last Christmas:
"Me?" she asks, more a statement than a quickly.

"Yes, for you," we reply. "All of this is for you."

Please see again some pictures from our Christmas visit with these lovely children.

If you are able to help us complete our drive for these darling kids, please do contribute this holiday. And, of course, spread the word as even a donation of $15 helps us in reaching our girl. One orphan at a time.

There are so many more kids who need year round, we always appreciate your support.