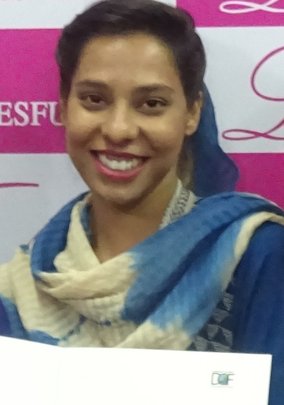 "In Pakistan, we have very little knowledge on climate change topic and we never relate climate change topic to poverty and women empowerment but in fact it plays a vital role in it," says Humaira Anwar, 216th winner of an Educate a Girl scholarship, "Feeling this lackness, at the suggestion of Dawood Global Foundation, some of us Educate a Girl winners decided to get together and promote Earth Day and spread awareness on climate."
"We wrote blog entries, tweeted and facebooked about climate change, as well as submitted articles for publication in newspapers," added Jaweria Ali, 25th winner of an Educate a Girl scholarship who funded the scholarship for Marwa Malick, 316th EAG scholarship winner.
"It felt great to make a difference. In fact, we felt like stars," stated Syeda Afiffa Batool, 208th winner of an Educate a Girl scholarship, who posed with some of the other girls holding up "stars."
Educate a Girl - mission 1000 - has funded 683 girls to become journalists so far, in partnership with the Institute of Journalism, UNDP-GEF-SGP and British Council. 250 girls have received vocational completion certificates so far, 40 of which were taught by BBC-award winning journalist Alex Preston and 200 of which were taught Climate Change by a panel of the UNDP-GEF-SGP led by multiple-award winning environmental expert Masood Lohar. 30 girls also went through two additional workshop trainings on Tips to Success and How to Be a Mompreneur or Momprofessional that were set up by our Foundation.
Now, the girls are going on to train each other and inspire one another to make a difference like this Earth Day awareness campaign. Their next project is Zumba for Education where the scholars are gathering fitness-loving philanthropists together to exercise with 100% of proceeds to Educate a Girl.
Girls like Humaira, Jaweria and Afiffa are making this effort because they appreciate the learning they received because you, their Donor, believed in them, and know that together, we can transform lives.