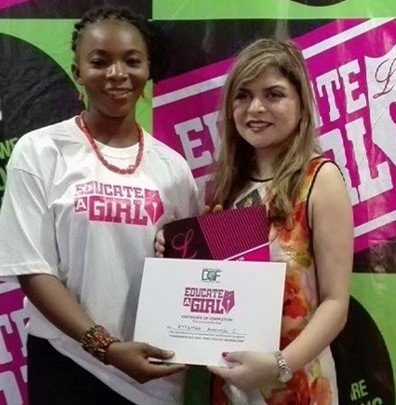 "WHEN IS A REVIVAL NEEDED?
WHEN CARELESSNESS AND UNCONCERN
KEEP THE PEOPLE ASLEEP".
As we mentioned in our last report, Educate a Girl (EAG), Nigeria, #EAGNigeria is about giving girls in need the ability to transform their lives, enter the workforce & have a voice.
In our previous reports we have shared many stories about girls that how their lives were changed after #EAGNigeria and just like that today we are sharing story of Amarachi, who is also one of the #EAGNigeria scholar and whose life was transformed completely after the training.
She is now working at Sunrise FM & ETV channel 50. She also mentor girls in different schools and organize events to reawaken the cultural values.
Her sonorous voice and captivating stagecraft are charming and thrilling. Anyone listening and watching her perform for the first time would wish for an encore. Amarachi, the Executive Director of Nwadioramma Concept and founder of OJA Cultural Development Initiative, has carved a niche for herself, using her poetry performance to preach her messages of peace, love and hope.
The Enugu State-born native is on a mission to promoting Igbo culture, correct societal ills and return traditional values of honour and respect to the society. Using poetry performances, books, cultural activism and story telling as her medium, Nwadioramma, as she is fondly called by her admirers, has written four books: Tomorrow's Twist, My Broad Daydream, Making A Difference and Akuko Ifo Nnemochie Kooro m, a collection of short stories in Igbo.
Saying Nwadioramma has warmed herself into the hearts of art and culture-loving people within and across Igbo-speaking areas in the country is merely stating the obvious. While recently speaking about her performance, the broadcaster said: "I scribble words from my soul on paper and paint pictures with them. I write different types of poetry – sonnet, narrative, epic, free verse, couplet; I am not limited to a particular type. My poetry is simple and comes in both English and Igbo languages. I also do special kind of performance, which is neither spoken words nor recitation. While I recite my English poetry, I chant most of my Igbo poems. So, I call myself an indigenous performing poet. It is my own kind of poetry performance. It is my creation."
She came in contact with books early in life, and began to imagine how authors string words together and dreamed of becoming an author someday. That dream came to pass, when she published her first book.
"I began with prose before venturing into poetry," she said. "I was very young; I cannot tell the accurate age now, but I published my first prose, when I was 19. Poetry came much later. My membership of the Young Creative Writers Society of Nigeria actually motivated me to do poetry because the association kept organizing poetry contest, and to participate, I had to write poems. Igbo poetry came in 2014. I tried it out and it came out well and since then I have not looked back. In fact, I want people to hear me in my own language. That was after my youth service, especially as there was no job in view."
Aside writing and performing them in her closet and before a group of friends, She yearned for visibility to enable her reach out. To do this, the current Vice Chairperson of Association of Nigerian Authors (ANA), Enugu State and a member of Enugu Literary Society (EnLS) had to do volunteer services for her state broadcasting station.
According to her, "Going to the state media house for volunteer services exposed me to new knowledge. In fact, it was thinking of how to positively engage myself each day I got home that led to what we now enjoy as Amarachi's Igbo performance poetry. For me, writing generally just happened. It's like the food you stumble upon and love; just the right way to let your thoughts flow. You look at it and find out it makes sense. Perhaps, you let an eye or two see it and comment on it. And ever since people say they like my works; I have not relented to give them the best.
"However, I must point out that the audience was a bit confused when I started. They found it difficult to categorize my work, until 2015 when I forcefully carved a niche for myself. I kept performing for free at any available event just to make my voice heard in Igbo. And before long, I gained recognition, then the prizes and others goodies followed."
On why she chants in Igbo, the award winning poet and author, said, "I use Igbo more because I am Igbo and want my messages to get to the grassroots, make people hear and identify with them. I use it to tell the people to choose peace and not war because the Nigerian Civil War affected Igbo nation, killed millions of people.
"Apart from this, I see it as a way of contributing my quota to the ongoing revival of the language. I want to see and hear Igbo children read and speak the language, as it ought to be because language is part of a people's culture. And culture distinguishes a group of people; it makes them unique and autonomous. Without culture there is no identity. And the best way to revive our culture is to organize events in different cultural expressions such as festivals, traditional dances, exhibitions of local arts and crafts, dressing, language, folklores and vernacular discussion programmes on radio and television, as well as publications in magazines and others."
We, at team Educate a Girl are so happy for Amarachi and for the change that our training was able to bring in her and it was all possible because of the generosity and support of our wonderful donors like you all and for that, on behalf of Amarachi and all other #EAGNigeria scholars, we would like to thank you.
There are many other girls like Amarachi in Nigeria who are just waiting for a ray of light which could help them identify their path and we know we can provide that light but for that we ask for help from all of you so we can transform more and more lives.
Together, we are transforming lives.