We give out teddy bears to tots and orphans struggling. We are focusing on a drive for handicapable orphans at Darul Sakoon orphanage, a very special place that looks after the most vulnerable in Karachi.
Two Christmases ago, we shared the story of Cheryl, just 3, who lay dazed in her cot, not knowing what Christmas was although she was a Christian. Handicapable and not fully alert, she relies completely on the nuns and care at this orphanage that looks after 180 Christian, Hindu and Muslim orphans, most of whom are handicapable.
We've created a new mini project in order to distribute teddy bears and meals on Eid day, a religious festival. Last Christmas, we were able to gift all 180 orphans teddy bears, chocolates and hot cross buns. This year, we're beginning with our initial target of 100 orphans for $1000 and have taii I see $215 so far.
We can't wait to see smiles on the faces of orphans.
If you are able to help us complete our drive for these darling kids, please do contribute this holiday. And, of course, spread the word as even a donation of $15 helps us in reaching our goal. One orphan at a time.

There are so many more kids who need year round, we always appreciate your support.
The Global Climate Risk Index Report 2018 has placed Pakistan on the 5th spot as the most affected country by climate change during the past two decades in its annual report for 2020. The report further states that approximately, 10,000 people have perished in Pakistan and incurred economic losses of almost worth $3.8bn as well as witnessing 152 adverse weather events from 1999 to 2018.
According to news reports, "the sweltering weather has been causing loss of lives at a large scale and worsening water and food insecurity" which is affecting quality of life and creating panic in areas.
Pakistani Prime Minister Imran Khan has launched an initiative to plant 10 billion trees within a span of five years with a vision of a green and clean nation. Not only should this initiative help in combating climate change but it is also expected to promote tourism, help create jobs, and reduce pollution which kills hundreds of thousands of people each year.
Our project - thanks to your help - is posed to connect deserving scholars to hands on planting trees. Teaching them the importance of caring for our environment and planet.
Please do spread the word and thank you.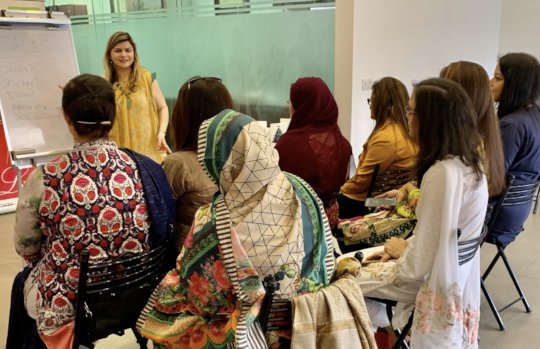 "My husband has lost his job and my small business supports are entire family. This training and platform is enabling me to not only gain confidence, but pay my bills," said Maria (name changes for privacy purposes)
We have been training 200 women entrepreneurs in marketing, sales, and networking. We recently held exhibitions showcasing curated work of 20 women for sale in the two major consulates to roaring success.
We are particularly encouraging them to sell each other's products, to support one another and work in teams.
We now wish to train them in packaging, supply chain and thereafter online sales.
Its magnificent to see the leaps and bounds they are making.
WARNING: Javascript is currently disabled or is not available in your browser. GlobalGiving makes extensive use of Javascript and will not function properly with Javascript disabled.
Please enable Javascript
and refresh this page.