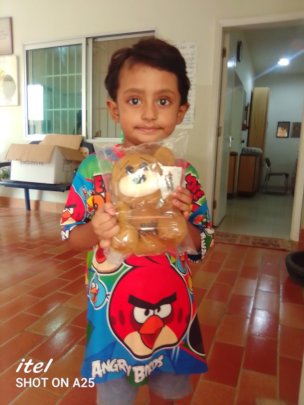 Little Shoutoo (name changed), 6, is an orphan in Jamsharo, Pakistan. He feels safe and included in all orphanage activities. School, playtime and meals. It's just when he's alone, he is usually reading a book. It's his way to get lost in another world and imagine what it would be like if he had a family of his own. His favourite book is an American title, How Much Do I Love You. Although his English is not very good, this chidlren's book is short and simply enough, with so few lines, that he reads it over and over again. He loves it best because it makes him believe in the impossible. That there is not only someone who loves him, but loves him soooooo much.
When he received his teddy, he was one of many children at the orphanage to be gifted one, but this felt different to him. When he held the bear close to his chest, his heart. He felt something inside of him move. Melt. Open. He felt protective. He had never felt that emotion before. He knew the supervisors protected him all the time. His teachers too. But he had never felt the need to protect or look after anyone himself. He was still so small that he had never known that emotion. Once he cuddled the bear, however - his very own bear - he felt a strong need to protect this bear - his bear - from anything and everything. He held the teddy closer and closer and knew a feeling of responsiblity and a need to care for something, for the very first time. He also felt an overwhelming love for his little bear, who he called Shoutoo Beta (which means baby boy), after him.
Feeling so much love, he knew Shoutoo Beta loved him too. Just like the book he so loved to read, he had found love. And love had found him.
Thank you for gifting a teddy to Shoutoo. Please do give more so more orphans can experience this special feeling of having someone to loved and be loved by.
Starting today, September 14, GlobalGiving is matching all donations at 50% up to $50, until funds run out. So if you give USD 100 or more, your donation will be increased by $50. That's 5 more bears, just for donating today! Thank you!