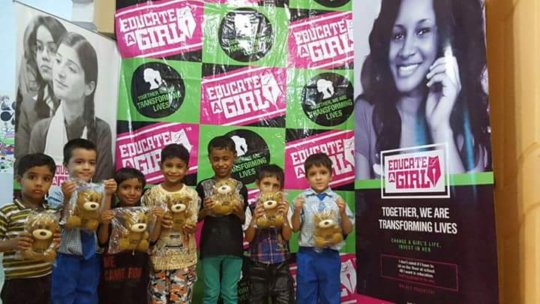 This is the month of Rabi' al-awwal ( ) which is the third month in the Islamic calendar. During this month, the majority of Muslims celebrate Mawlid - the birthday of the Islamic prophet, Muhammad (P.B.U.H).
It is a month of celebration as well as introspection. As responsible Muslims, we should evaluate our role in the society and make further efforts for its improvement. Those of us who are lucky to be blessed with wealth have a duty to support others, especially orphan children—who are the most vulnerable segment of our society.
Orphan children have a very special place in Islam. Prophet Muhammad (P.B.U.H) was the epitome of kindness especially towards orphan children. The month of Rabi Ul Awwal invites us to emulate his (P.B.U.H) great character. It also beckons us to identify helpless orphan children around our surroundings—within our relatives, neighborhood, or circle of acquaintances.
The Prophet (PBUH) said: "I and the custodian of an orphan are like this (together) in Paradise", and he joined his forefinger and middle finger together."
According to a UNICEF survey, Pakistan is home to approximately, 4.2 Million orphan children. This alarming statistic should call us to action immediately. Remember that today's children will take over the reins of tomorrow. Our future will largely depend on how we treat these 4.2 million orphans. It is our responsibility as Muslims and Pakistanis to treat orphan children with kindness and love.
The holy Quran says: "They ask you, (O Muhammad), what they shall spend. Say: that which you spend for good (must go) to parents and near kindred and orphans and the needy and the wayfarer. And whatsoever good you do, lo! Allah is Aware of it." (Qur'an 2:215)
So on 12 Rabi ul awwal, we at DGF arranged a visit in the nearby orphanage and the to give each of these orphans a special gift to include these children in the happiness and help them forget their deprivation. We met many kids over there and shared with them many sayings of Prophet (P.B.U.H) , which they all enjoyed a lot.
Ahad was one of the kid at orphanage who was very excited by receiving a teddy bear and said that one day he will also celebrate Prophet (P.B.U.H) birthday in the same manner like us and will give gifts to other kids. His statement really touched our hearts and we pray to GOD that all his wishes come true.
We were able to do all this just because of our amazing donors so on behalf of our whole team and on behalf of all these kids, we would like to thank you all.
We are also planning to celebrate Christmas which is next week in the same way and would really appreciate your help so we could bring happiness in more and more lives.