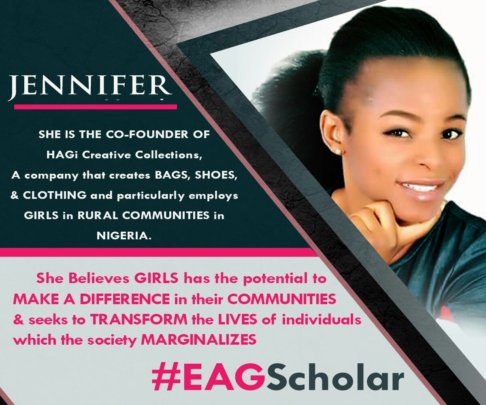 Girls are powerful, fierce and determined change-makers — but they aren't always valued for those bold qualities.
Society often discourages girls from claiming education, opportunity and power — all markers of success. But in a world that constantly discourages women from taking leadership, some girls are fighting back, stepping up as advocates in their local communities.
It's been some months since we had our first session of Educate a Girl in Nigeria & Give Her a Future - #EAGNigeria. We still remember that when our team was planning for the session, we just had one thing in mind that we want to bring positive change in everyone's life. We want to transform the lives of these girls we are going to educate.
Today, these girls are incredible young women transforming their local communities by empowering their peers.
In the future, we believe they will be the world's #WonderWomen, lifting up girls across the globe by combatting inequality in their hometowns and beyond.
Jennifer is a 22 years old girl and is one of the Educate a Girl scholars who benefitted from the trainings offered by the project "Educate a Girl in Nigeria & Give Her a Future", which educated 250 deserving girls including Boko Haram orphans in Media Studies and gave them a platform for their voices to be heard and to encourage their freedom to say what they wish for and also to help their community.
According to Jennifer, this was a life changing experience for her because it made her realize that how important it is to be educated. She said many children in her community face problems obtaining quality education. Schools are constantly closing. There's a lack of teachers and educational materials. Students often drop out of school to enter the workforce. And she is determined to change all that.
Today, Jennifer is the founder of HAGI – Hope for African Girl Initiative, which set out programs, seminars, trainings and campaigns to primary and secondary schools and has empowered many young girls by linking them to opportunities that enhance their chances of success in creating a better society in Africa and beyond.
Jennifer is also a millennial entrepreneur and creator of HAGI Creative Collections that empower girls in rural communities to manufacture versatile and durable shoes, bags and clothing from up-cycled tire and scrap fabrics.
She said that she believe GIRLS has the potential to make a difference in their communities and seeks to transform the lives of individuals which the society marginalizes.
There are many more Educate a Girl scholars in Nigeria, like Jennifer, who got encouraged to give out to their community after the #EAGNigeria training and it's all because of the wonderful donors, who made this happen. So on behalf of Jennifer and all other girls, we would like to thank you!
We are raising funds to educate 3000 more girls in Nigeria and for which we need support that we seek from our wonderful donors, so we could transform the lives of many more girls in Nigeria.