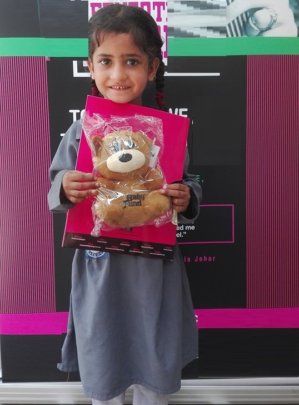 There comes a time when every parent departs from their children by leaving this world and every human being, no matter what their age, dreads that day of segregation. Many children living in this time and age are parentless and depend on their society to exist and thrive.
With constant change in economic and social circumstances, ongoing conflicts and political turmoil in many developing and transition countries like Syria, Myanmar, Somalia, Sudan, Mali, Iraq, Afghanistan and Palestine, we are faced with many situations where the number of orphans and needy children is constantly increasing. According to UNICEF, there are between 143-210 million orphans in the world. This figure includes children who have lost either both of their parents or one of them.
The problems faced by orphans are complex and impact on their individual age and circumstances. The mental trauma and agony of witnessing warfare or losing parents and family members is not easy to deal with and requires tremendous courage and patience to recover from it and adapt to a new situation.
One might not be able to take away the grief of orphans and needy people but they can extend their hands in generosity to let them know that they are cared for and supported. Since we live in a globalized world, societies are inter-dependent on each other for survival and progress. From this perspective, people living in different regions of the world are responsible to help children in dire need of support and sympathy.
Keeping this in mind, we are trying our best to bring joy in the lives of these kids, however we could.
As few days are left for the festival of Eid, a joyous Muslim occasion for kids. A day of dressing up in new clothes, morning prayers, and sweets and coming home to gifts and just like last year, we plan a surprise for those who are less fortunate and don't get all this.
We visited Idara Al Khair with our team which is a school for orphans and those who couldn't afford their studies. We met many kids over there and realized that it's not only orphans who need our help and are our responsibility but there are many other kids as well who are less fortunate, although they have parents and are living with their families but still their families are not able to provide for the basic needs of these kids, no matter how much they wish to.
So this time we distributed teddy bears to orphans as well as some of other kids who were same excited by receiving a gift. We spoke to some of these kids and many of them shared their stories with us.
Ayesha who was 5 years old was one of the student in that school and when we asked her if she liked the teddy bear, she so sweetly replied that she is in love with it. When we asked her that what exactly she does after school so she said that she play with some of her friends and sometimes they play with different toys. She asked us if we would like to see her toys and when she showed us, we almost had tears in our eyes because she made some dolls on paper and had some stones and those were her toys. When we asked her about it, that 5 year old girl said that the teddy we gave her is her first actual toy and we couldn't be happier because we were able to give her something that she always wanted to have.
We gave teddy bears to many other kids and they were also very happy and excited and we were able to do all this just because of our wonderful donors so on behalf of Ayesha and all our team members we want to thank you all!
There are many other kids who will be very happy just like Ayesha and we want to make them happy but we need help from our donors for that, please spread the word.