COVID-19 numbers are rising and the life of students is more confusing than ever. In Western countries, education is becoming more and more virtual. In Pakistan, there simply isn't existing infrastructure to enable that, especially not for the more deserving, struggling families and their daughters.
Your donations are going toward ensuring their education continues, whether via reading books at home, assignments via email, or even classes that take place sporadically when there is a dip in COVID-19 numbers.
It is a struggle and unknown territory, but we must keep prioritizing educaiton and ensuring these girls in need don't fall behind.
Believe in these girls, support them with their education and donate now.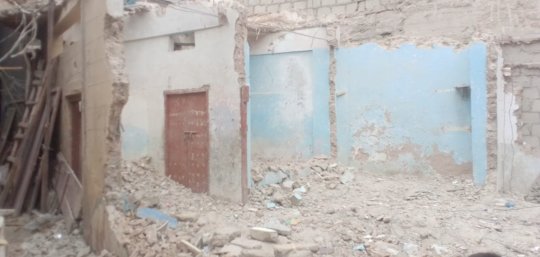 The Garage School serves the needs of street children of Neelum Colony, an area right next to the richest part of Karachi, where the children of the servants of the rich are often stranded and in need of education, health care, food and other benefits.
We started this campaign to help raise funds for their expansion. Despite covid-19, the expansion has started. Attached is a picture of the area where this expansion is being built, brick by brick, with your funds and those of others. Thank you for donating and continue to do so. We will soon show you pictures of the built up areas. We are very excited.
Thank you for your generosity and your support of this much needed initiative.
Colorism is a cold reality for so many young girls in Pakistan who are told from a small age that they are ugly and undesirable. As they get older, multinationals and other top jobs often prefer "fair girls" for window-dresssing as verified by several students who participated in our recent Educate a Girl Skin Colour conference.
There are enough obstacles in life and mental health and struggling with self-esteem are real issues. This project is fundraising to combat that very problem. And change is real. Change is happening. Already, Unilever has announced the change in name of Fair and Lovely to Glow and Lovely.
Step by step, changes will occur and we are on the frontlines for both advocating, training and building a community that celebrates its differences, does not discriminate because of them.
Thank you for donating to Raise Self-Esteeem of Young Girls in Pakistan to be planted. Please do give more so more programming can be put in place to combat deep-rooted colorism and most importantly, raise the self-esteem of Pakistani girls.

Starting today, September 14, GlobalGiving is matching all donations at 50% up to $50, until funds run out. So if you give USD 100 or more, your donation will be increased by $50. Thank you!
WARNING: Javascript is currently disabled or is not available in your browser. GlobalGiving makes extensive use of Javascript and will not function properly with Javascript disabled.
Please enable Javascript
and refresh this page.