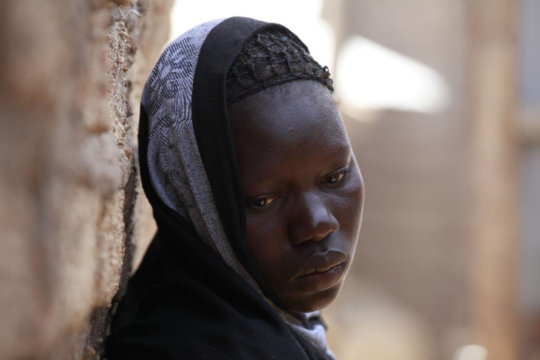 Sometimes people ask us that as Educate a Girl began in Pakistan then why Nigeria was the first country that we visited and we thought to share the answer with our wonderful donors today.
Attached is a photo of a girl. In this photo taken Monday, May 19, 2014, Solome, sister of kidnapped school girls Hauwa, Ishaya stands outside their family house in Chibok, Nigeria. More than 200 school girls were kidnapped from a school in Chibok in Nigeria's north-eastern state of Borno on April 14. Boko Haram claimed responsibility for the act. (AP Photo/Sunday Alamba)
Educate a Girl (EAG), Nigeria, is about giving girls in need the ability to transform their lives, enter the workforce & have a voice.
What is the issue, problem, or challenge?
Girls 18-24 years old, from the North, South, East & West Nigeria, who are from underserved, lower and middle class backgrounds, lack access to affordable, quality education. Some girls are often unable to continue or afford their studies due to loss of their homes from bomb blasts, terrorism and communal feuds. Some fathers who have lost their jobs or businesses and/or have limited funds, will likely educate only the sons.
There is also a huge shortage of jobs in Nigeria, especially among Youths. (2015 Unemployment rate as a function of the labour market is 23.9%, according to the Nigerian Bureau of Statistics). There is also a cultural bias, which manifests as a discouragement from hiring women for the few spots in banking, journalism etc. as it is perceived that men have to support a family and are not prone to breaks in their career. Thus, there is an urgent need to increase the representation of women holding influential media jobs in Nigeria.
We thought that Nigerian girls needed our help more than anything and that's why we entered Nigeria and we have experienced that our decision was correct and anyone can see the impact by meeting the Educate a Girl Nigeria scholars who have changed completely after the Educate a girl session and how the are living the lives the wish to live and now are able to support others and nothing make us more happy than watching these girls get more and more success in life.
We at Educate a Girl couldn't wait to transform more lives and adding more and more girls in our community to help them achieve their dreams but that's need a lot of preparation and also support that we seek from our wonderful donors, so we could transform the lives of these girls.
Together we are transforming lives