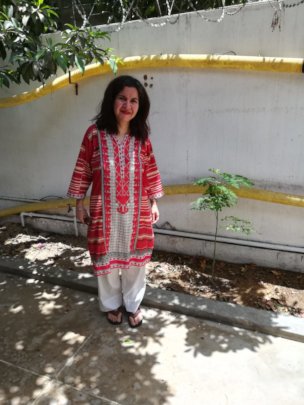 Thanks to your generosity, this Earth Day, April 22, 2020, we planted 250 moringa trees. Due to COVID-19, lockdown and social distancing, instead of organizing 250 deserving Educate a Girl scholars to plant the trees together, we gifted 250 moringa trees to different caring Karachiites, who each planted the trees separately in their own backyards, where not only did they plant the trees, but are personally caring for and nurturing their growth. They are sharing updates and pictures with us.
Here is a picture of Ambreen with the moringa tree in her backyard. She was so excited to be part of this campaign and help with climate change in Karachi. She had never planted a tree before, and now daily visits her moringa tree and is reminded of nature, climate and the environment every time she does so..
We selected moringa trees for their health benefits and sturdiness.
Although this lockdown has helped with air pollution and climate in Karachi, there are so many climate change needs and more and more trees to be planted. Thank you for your role in this. Please continue to spread the word, donate more and help us plant more trees!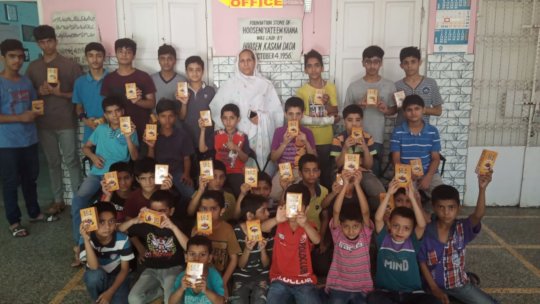 We are writing to you as we celebrate the last of the Eid-al-Fitr holidays and the end of Ramadan, the month of fasting for Muslims. Thanks to your generosity, we gifted 1000 orphans at 8 orphanages throughout Karachi. Boys and girls of all ages, the majority of whom were fasting.
Each orphan got his or her own packet of khajoor. We distributed a little late this year, as most donations came in late. We request that you please donate early so that we can get the khajoor packets by first day Ramadan to all orphans. Nonetheless, your generosity was greatly appreciated and loved and enjoyed by all.
Thank you!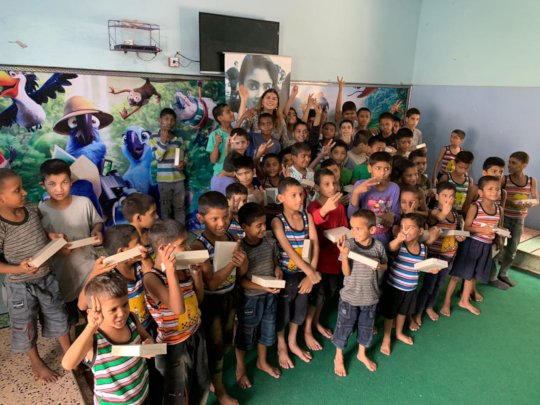 Ramadan Mubarak! To all of you fasting around the world, we wish you ease and peace. This is a very unsual year in that Pakistan, like much of the world, is under COVID-19 lockdown. That means that it is difficult to visit or cater to the needs of orphans, who are almost entirely fasting. Our priority is to feed these orphans during Ramadan and this drive is for giving them khajoor (dates) to open their fasts.
Thanks to you who have donated. We request all of you to spread the word and ask friends to donate so we can give dates to more orphans this year as they are more isolated then ever. Due to social distancing, they cannot even open their fasts together. But, these khajoor, give them a sense of unity and community.
Our goal was to distribute on Saturday, 25th April 2020, first day of Ramadan 2020, but we are now planning to distribute throughout the month so that we can reach as many orphans as possible. We also are getting fresh donations so we plan to give them out this year to those most in need.
We will be sending updates and keeping you informed as this is our journey together. We won't be taking photographs with orphans this year and they will be given the khajoor at separate times so they don't gather together. Their health and protection is our priority.
Thank you!
WARNING: Javascript is currently disabled or is not available in your browser. GlobalGiving makes extensive use of Javascript and will not function properly with Javascript disabled.
Please enable Javascript
and refresh this page.