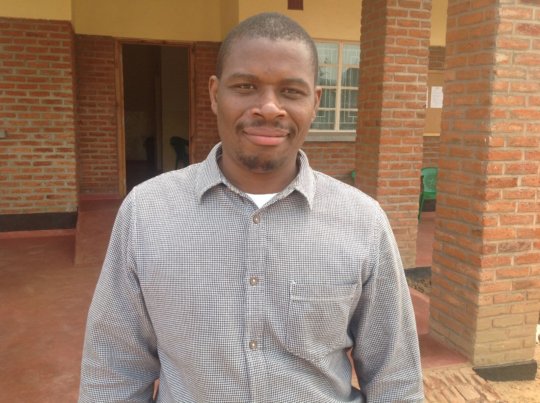 John is a tutor for EKARI Foundation's Tutoring Program. He teaches physical science, and he is also a teacher in the local community. He teaches the students during their holidays so they don't fall behind and they keep up with their studies during breaks. With the extra income John receives from EKARI, he is able to financially support three of his relatives' higher education. Without John's support (indirectly from EKARI), his relatives would not have been able to continue their higher education. However, John asserts that the most important aspect of his job "is the ability for him to impart wisdom on children and ensure they pass their yearly exams, which they previously did not have the capacity to do."
EKARI's Tutoring Program is expanding and growing. We are now teaching two more courses each day (Chichewa - a local language, and agriculture) which has increased the classes from four to six hours. This means we made contracts with two new local teachers, bringing the total to six. Also, thanks to the space in the community building, non-EKARI youth from the community have been able to join in on some classes.
We are grateful for your support, which has allowed the Tutoring Program to continue to succeed. Thank you!
Links:
EKARI Foundation has had a busy and exciting few months! Thirteen students from the University of Michigan College of Engineering volunteered with EKARI in Phalombe, Malawi. As part of EKARI's Tutoring Program, the volunteers offered free small group tutoring lessons to the entire Phalombe community at the EKARI Community Building teaching English, Math, Biology, Science, and Computer Science in order to prepare students for their final high school exam. Several volunteers also assisted teachers and offered tutoring sessions after school at the local Phalombe Secondary School.
There were about 45 students from the Phalombe community who attended the tutoring sessions at EKARI's community building, most of whom were students attending night school and whom had previously failed their final high school exam due to lack of reference materials, such as library books, and inexperienced teachers. Without EKARI's Tutoring Program, the participating students would not have had access to small group tutoring and highly risked failing their final exam again. The University of Michigan volunteers were able to simplify the information the students needed to understand for their final exam and provide detailed explanations. Because there were several volunteers for each class, the students had more time to ask the volunteers questions and really learn. The volunteers afforded the opportunity for the Phalombe students to cover the majority of the topics in their course load, which were to be included in the final exam. Esnart, a student who participated, stated, "There are a lot of things that I benefitted from these volunteers… I understand things that I never knew before from the time I was in my school, they just explain very clearly… about physical science, right now I am able to balance equations [which I couldn't do before]… and I know everything is possible…." EKARI Foundation also provide d all of the classroom materials including books, pencils, paper and chalk for the tutoring sessions.
In partnership with EKARI Foundation, the University of Michigan volunteers have made a true impact because the students will now have a better chance of passing their final exams; final exam scores are very important because they are part of the application process for college and trade school in Malawi. The students have asked that the University of Michigan volunteers return. EKARI's plan is to continue this partnership on a yearly basis!
Our 3 Meals a Day Program is a crucial element of EKARI Foundation's work in the Phalombe region of Malawi, Africa. The program provides nutritious food for students who would otherwise only get one meal from home a day. Not only does the 3 Meals a Day Program benefit our students, but it also provides employment for the community.
Two women, Lea and Modester, are examples of positive changes our 3 Meals a Day Program has made in Phalombe. EKARI employs the two women to cook lunch for our students during our programs, including our Tutoring Program. Lea has five children and Modester has four. Both were unable to complete high school because their families faced extreme poverty and could not afford to pay for school fees. With the funds that Lea and Modester receive through their part-time employment with EKARI, they are able to better provide for their family's needs. These are able to feed their families, send their children to school, and have managed to purchase metal roof sheets to replace the grass thatched roofs on their homes – their roofs will no longer leak when it rains!
Lea and Modester have also learned about nutrition through cooking for our students for the 3 Meals a Day Program, learned about Malawi's Six Food Groups, and how each food has its own nutrition value. They have learned how to prepare delicious snacks, including a variety of vegetables and nuts that the students can bring to school with them after the holidays.
Your support is vital to EKARI's 3 Meals a Day Program and Tutoring Program. Without these complementary programs, students supported through EKARI would not be able to stay in school and flourish. Thanks to you, students will graduate from high school and college, becoming educated citizens in Malawi.
WARNING: Javascript is currently disabled or is not available in your browser. GlobalGiving makes extensive use of Javascript and will not function properly with Javascript disabled.
Please enable Javascript
and refresh this page.