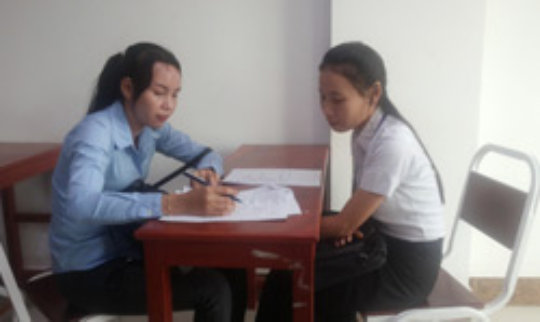 As another new school year begins, some students have been learning about road safety all summer, both inside and outside the classroom. Keep reading to find out how our school-based programs from university to primary school are creating a safe generation of young road users.
First phase of Safety Delivered surveys students at four Cambodian universities
18 July, 2017- Phnom Penh
AIP Foundation has partnered with four universities in Cambodia for its new Safety Delivered program, which will include road safety education and public awareness campaigns to raise students' awareness of the risks of distracted driving. As part of the first phase of the program, we conducted a baseline survey to gather information on the attitudes and driving behaviors of university students. We interviewed 100 students from each university and will develop these findings into an educational toolkit on relevant road safety topics. Participating universities include Royal University of Phnom Penh, Asia Europe University, Phnom Penh International University, and Pannasastra University.
Safety Delivered is a multi-country partnership with The UPS Foundation, that will be implemented in Vietnam, Thailand, Cambodia, and Myanmar. The organizations have been working together since 2011 on school-based and advocacy-focused road safety initiatives in Southeast Asia.
View more photos here.
300 students continue to receive road safety lessons during their summer vacation
28 July, 2017- Siem Reap
Helmets for Families, a program supported by Manulife Cambodia, kept busy during the summer vacation at Kessararam Primary School with interactive, police led road safety lessons for students as well as community outreach activities to promote helmet use and road safety. Manulife volunteers teamed up with traffic police from Siem Reap to lead road safety lessons for 300 students from Kessararam Primary School. The students reinforced what they learned through interactive games, including a painting contest, a bicycle race, and a quiz of road safety questions.
As part of Helmets for Families programming, volunteers from theYoung Ambassadors for Road Safety (YARS) network and from local universities did outreach in the community surrounding Kessararam Primary School. The volunteers distributed educational materials on the importance of helmet use as well as safe driving and road behavior. One thousand leaflets were placed in strategic high-volume centers to encourage the community to wear helmets.
Manulife Cambodia has supported the Helmets for Families program since 2012. Throughout its tenure, in addition to equipping school children with life-saving road safety knowledge and skills, the program has provided nearly 4,000 helmets to some of the country's most vulnerable road users.
Australian Ambassador meets with 30 YARS student representatives
1 August, 2017- Siem Reap
Australian Ambassador to the Kingdom of Cambodia, Angela Corcoran, met with 30 university students from the Young Ambassadors for Road Safety (YARS) program to review its progress. The student ambassadors presented on the program's achievements and lessons learned thus far, and offered recommendations for future implementation. Key initiatives discussed included the 'Save Lives. Slow Down' Joint Statement, which was drafted by YARS representatives as part of the 4th UN Global Road Safety Week.
Ms. Corcoran thanked AIP Foundation for its support of the program and the student advocates for their efforts to make the roads safe for their local community. The meeting was held at the University of South East Asia in Siem Reap.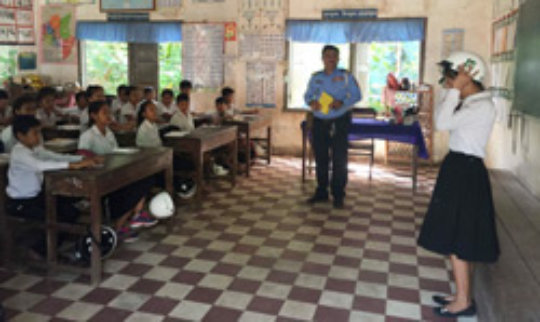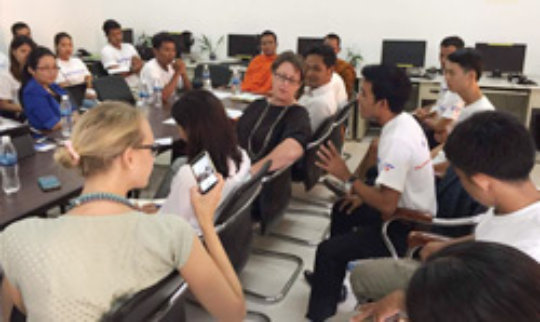 Links: