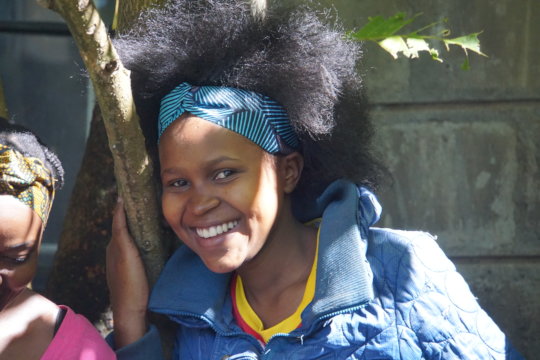 It is hard to imagine another year has flown by. My time in Kenya over this year and every year is so productive, which can only happen because of the help of you our supporters.
My special thanks to my husband Bill, whose support is unfailing, and to the incredible work of our hardworking Kenya staff. To our volunteers, how can we all, ever say thank you? You bring us joy and so much laughter. Showing us that we are not forgotten and teach our young mothers that they too through education and being loved can one day be visiting you in your country.

I return next year to meet the new students that we take from their world of going without food and medical help and welcome them into our school to begin their education and a world of possibilities. I am continually grateful that I am not on this gigantic journey alone, we all thank you, for being right there with us.
2019, a year we know, we will continue to face our own challenges with funding and knowing the stories of our young mothers which break our hearts, but we see every single day the differences we are making not only to our girls but to our whole destitute community here, there is a future.

I personally wish you and your family a joyous festive season and a very merry Christmas. I'm so thankful that you are also part of our big family.

Warmly
Jennifer Hughes-Bystrom
Founder/CEO
Springs of Hope Foundation
It is hard to imagine another year has flown by. My time in Kenya over this year and every year is so productive, which can only happen because of the help of you our supporters.
My special thanks to my husband Bill, whose support is unfailing, and to the incredible work of our hardworking Kenya staff. To our volunteers, how can we all, ever say thank you? You bring us joy and so much laughter. Showing us that we are not forgotten and teach our young mothers that they too through education and being loved can one day be visiting you in your country.

I return next year to meet the new students that we take from their world of going without food and medical help and welcome them into our school to begin their education and a world of possibilities. I am continually grateful that I am not on this gigantic journey alone, we all thank you, for being right there with us.
2019, a year we know, we will continue to face our own challenges with funding and knowing the stories of our young mothers which break our hearts, but we see every single day the differences we are making not only to our girls but to our whole destitute community here, there is a future.

I personally wish you and your family a joyous festive season and a very merry Christmas. I'm so thankful that you are also part of our big family.

Warmly
Jennifer Hughes-Bystrom
Founder/CEO
Springs of Hope Foundation
Finally, the hectic scramble of Black Friday and Cyber Monday are behind us. Please join us today November 27th for Giving Tuesday as we give thanks, share our many blessings and kick off the sharing, caring and giving season! For the next 24 hours, we have the opportunity to share in a whopping $150,000 in matching funds. For today only, Giving Tuesday, GlobalGiving will give away extra funds for every donation received.
When you give to Springs of Hope Foundation's GlobalGiving project today, November 27th, your donation will help us qualify for a large share of the $150,000 in bonus money. Last year, over 700,000 people worldwide made a gift in honor of the spirit of #GivingTuesday.
We could never have come so far or accomplished so much without your continued support. We hope that this year, through your gifts, you'll join us in continuing to empowering our women and children to become the leaders of change in their communities.
With Gratitude,
Jennifer Hughes-Bystrom
ON GIVING TUESDAY, NOVEMBER 27TH.
Links:
WARNING: Javascript is currently disabled or is not available in your browser. GlobalGiving makes extensive use of Javascript and will not function properly with Javascript disabled.
Please enable Javascript
and refresh this page.