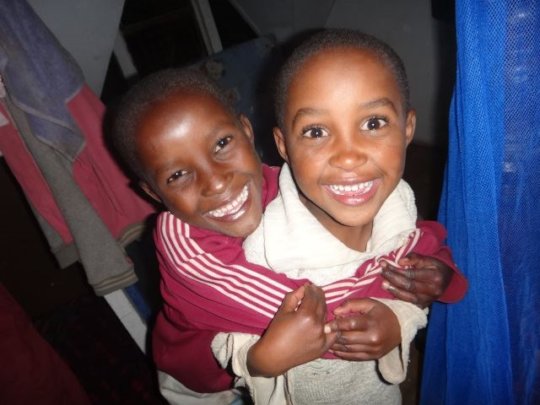 Mary (we have changed her name for her privacy) is 14 years old and is one of six siblings. Her parents are both HIV positive. This sweet family lives in a two-room, tiny wooden house with 4 generations getting by under one roof. That's right, 4 generations! Their elderly grandmother, Mary, and her two younger sisters sleep in the small living room. Grandma gets the paper-thin mattress on the couch and the girls sleep on the floor on makeshift cardboard mattresses. Mary's older sister, a teenage mother, her baby and Mary's parents sleep in the other room of their humble house. There is, of course, no running water so the girls have to walk several kilometers to the local river after school to fetch muddy river water for cooking and bathing. Their story is one of heartache and struggle and so much sickness. It would be so easy to give up and let the pain take over. However, do you see that beautiful smile on Mary's face as she hugs her younger sister?
Mary is supported by our school fee project, and this gives her all the hope she needs to keep going! Knowing she is supported and loved by strangers motivates Mary to do well. And boy does she do well! Mary is at the top of her class. Her grades are excellent, but that is not the only thing that takes her to the top. Mary is incredibly motivating to her younger sisters. They look up to her and follow her positive outlook and work ethic. Thank you to our donors, without your generosity this would not be possible. Your love reaches Mary and her family in Kenya and beyond!
Everyone here at Springs of Hope Foundation thanks you for your continued support of this important project.
Please mark your calendars. On September 12th Global Giving is offering another great opportunity for all of us to boost our donation.
Starting at midnight ET on Wednesday, Sept. 12, GlobalGiving partners will have 33 hours to boost all donations with a $50,000 incentive fund. The hours of the September Bonus Day have been optimized for multiple time zones and all participants will share in the prize winnings!
If you would like to learn even more about this project and others, please visit our web page or contact me at
Jenniferhughes@springsofhopefoundation.org.
Warmest regards,
Jennifer Hughes-Bystrom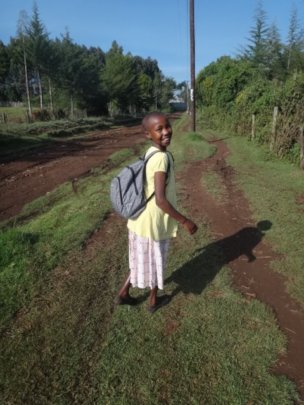 Links:
Attachments: