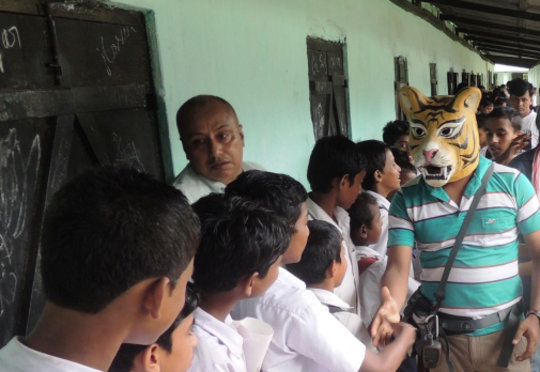 As the threat of poaching for rhino and tiger increases in the park the teams have been working hard to maintain the all-important on the ground presence in Kaziranga.
Your support has helped equip the forest guards providing 40 pairs of shoes, clothing and fuel to help these brave men carry out their daily patrols. You have also helped to raise awareness of the issues facing tigers by funding 21 'Tiger Goes to School' events and four public awareness drives bringing the total number of students reached to 2,358.
Reducing dependency on poaching through alternative livelihood schemes has also been a key part of the ongoing work being carried out. In the previous three months 12 women were taught to weave, nine families received piglets and 40 families received training on how to goat farm.
These seemingly simple measures are vital to the protection of key wildlife species in and around Kaziranga ensuring that rangers can carry out their anti-poaching patrols and people who live on the fringes of the park understand the value of wildlife and do not resort to poaching by teaching them alternative income generating skills.
Together we are working with local people to ensure a long-term sustainable future for Kaziranga's tigers and the communities who share their landscape.
Thank you so much for your support.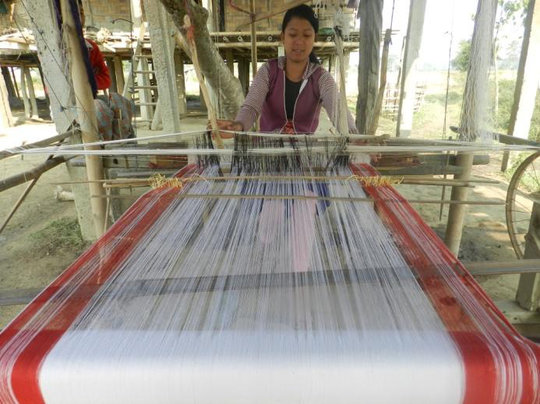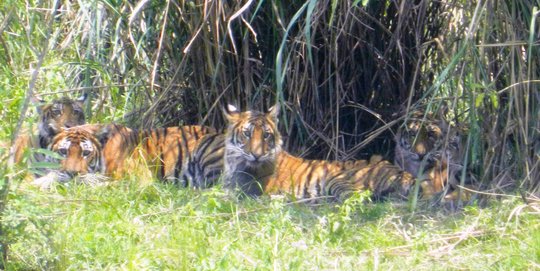 The tigers of Kaziranga National Park are famous for a number of reasons; they are among the biggest in the Benagl tiger family and the most elusive. So, catching them on camera traps is usually the only way we get to see them. But sometimes the team in the field get a magical, rare glimpse of the animals we are working so hard to protect.
Just before the monsoon the team were out checking camera traps when something caught their eye. A mother and cub cooling off on the river bank about 70 metres from them. They stopped to watch. Seeing one Kaziranga tiger is rare, but two was a treat. And then, incredibly, a third appeared, took a drink from the river and slipped back into the tall elephant grass. Heart's thumping the team couldn't believe their luck and then, just when they had thought they had seen everything, three grown up cubs came into view.
The team had never seen anything like it. Five Kaziranga tigers - a happy, healthy, tiger family living wild and free in one of the world's most amazing landscapes. An hour passed in the blink of an eye as they watched the incredible tiger family before returning to work.
"While checking the remaining cameras that day we continued to smile and think about our encounter," says Binita. "Yes, this is Kaziranga, a place that sometimes allows us a glimpse into its beautiful soul, a place where you never know what is waiting for you. But to ensure that others too can experience these glimpses of magic we must continue to provide a safe and secure environment for tigers to survive and thrive and to make sure that future generations have these forests, these plains and these moments of pure wild magic."
It is with your continuing and invalauble support that we can protect these amazing big cats and all the flora and fauna that they, as apex predators, in turn protect.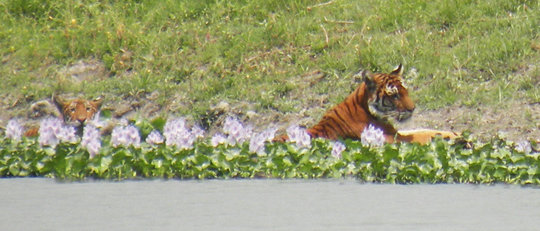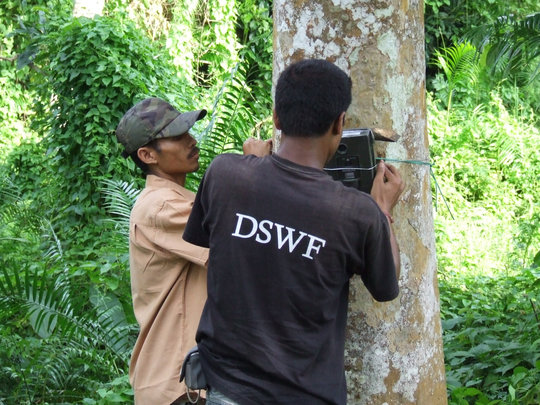 Links:
WARNING: Javascript is currently disabled or is not available in your browser. GlobalGiving makes extensive use of Javascript and will not function properly with Javascript disabled.
Please enable Javascript
and refresh this page.