It's not everyday that the chance arises to get out into the field and meet the people who are working so hard to protect endangered wildlife. So, it was with huge excitement that I set off for Kaziranga in Assam, Northern India, this summer to find out first hand how the team are getting on - and how they are using your precious donations.
The thing that hit me most was the welcome; it was so warm and SO appreciative of what we - the David Shepherd Wildlife Foundation, our TigerTime campaign and you the donors - provide in the way of support. For people who have very little their generosity of spirit, their kindness and their complete dedication to the wildlife they live so closely to was humbling.
I met the villagers who have signed up to the alternative livelihoods schemes we run - the weavers, the goat and pig herders - all keen to create sustainable incomes that keep them and their families away from the temptation of poaching.
And the temptation is huge. International gangs of organized criminals with plenty of cash and buyers calling for supplies of rhino horn and tiger parts are all too ready to convert the locals into criminals too. What is amazing is the dignity with which such poor communities turn their backs on poaching and seek a safer life, for everyone.
I met one group of the Village Defense Force, local men who come together armed with no more than a stick and a mobile phone to patrol the borders of the national park to defend the tigers and rhinos from poachers. They run two shifts 6pm-12pm and 12pm-6am. They asked for badges - so that people would know they were on offical business - and they asked for raincoats. Thankfully, because of your support this is something we can provide.
I also met Jorba, the amazing sniffer dog I've written about previously. And, much to my delight I met his new collegaue in training, Babli, and we discussed the excitement of a third dog that will be joining the squad later this year - again, thanks to your generous donations.
And then we visited the schools. Every year the team visits all 70 schools around the edge of Kaziranga National Park and helps the children and their families understand the value of wildlife and the importance of protecting it. The children sat transfixed and then happily joined in with sharing the papier mache animal heads and welcoming tigers to their school.
There was much, much more to the visit but the overriding message that I picked up was that yes, it's really tough fending off the advances of poaching gangs - both in terms of resisting their monetary offers and their fire power - but that working together, sharing experiences and a passion for wildlife, means that we can resist them. More than that, we can challenge them and defend against them and we will not, ever, let them win.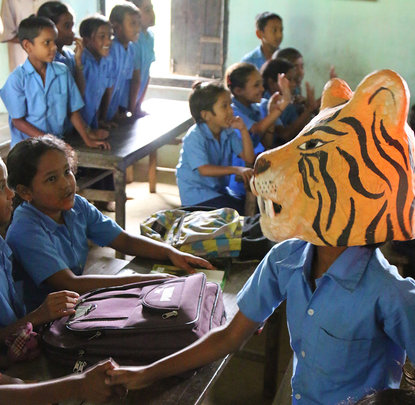 Links: