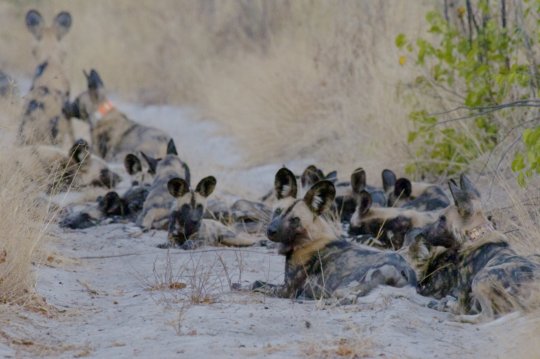 With the first three months of 2017 having been intensely busy, raising funds and awareness for the survival of Zimbabwe's painted dogs has never been more urgent.
For some months the team in Zimbabwe had been concerned about the shifting territory of the Nyamandlovu pack, which saw the dogs spending more than 50 per cent of their time outside of the relative safety of Hwange National Park (HNP) where the teams patrol and remove thousands of snares left by poachers.
The team tried everything to encourage the dogs back into the park, including deploying a bio boundary of scent from other painted dogs which aimed to create the impression that the territory is already occupied. While they had some success with this, it has not been totally effective and the Nyamandlovu pack continued to leave the park again and again, straying into unprotected territory where the team cannot track and protect them effectively.
"To try and better protect them the team deployed the anti-poaching units, that you and DSWF fund, into those areas to keep them as snare-free as possible," explains DSWF CEO, Oliver Smith. "Knowing they had to do more, the team also fitted protective collars to the alpha male, Browny and alpha female, Socks. Fortunately, they were just in time."
The pack had not been seen for over a week when news arrived that one of the collared dogs had a wound on its neck.
Anxious to locate the pack and complete a head count, which is easier said than done with 12+ dogs, the team were relieved to discover that the pack was still 16 strong. All four collared dogs were present, plus the other three adults and nine remaining pups. But, the alpha female Socks has a wound on her neck.
Although Socks' collar had been twisted at a strange angle and was damaged; a clear sign that she had been caught in a snare, thankfully her wound was not serious and it did not require treatment. The collar, designed to prevent snares from strangling the dogs, had done its job, it had saved her life.
Alpha female Socks, who turns seven this year and, all being well, will have her fifth litter in 2017 making her the most successful female that the team have ever tracked.
It is only with your help that Socks survived. Without you we could not fund the anti-poaching units which since January, have made more than 160 patrols and recovered more than 500 snares, or buy the anti-snare collars which protect these precious dogs so successfully.
Thank you for saving Socks and the generation of dogs she has helped nurture.