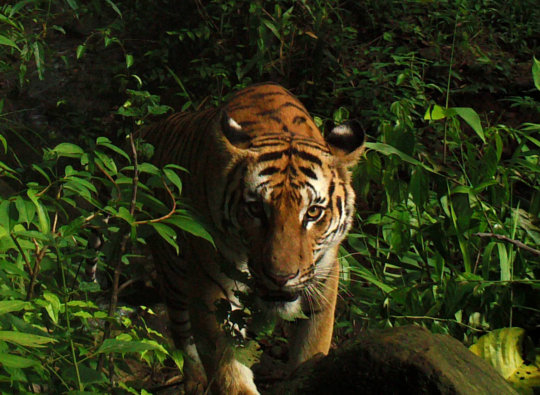 Not many of us are lucky enough to share our work space with wild tigers but for Eric Ash, the forests of Thailand and their tigers have been part of his day job. Here's a glimpse into his work tracking the tigers of Thailand that your donations help us support...
Our monitoring work, funded by the David Shepherd Wildlife Foundation and its TigerTime campaign, relies to a great extent on camera traps and the photos of the tigers they capture. They can provide important insight into tiger behaviour, range, population and ecology; information that can be used to develop vital protection strategies.
Notably, this information is collected non-invasively, so we can rest assured that we can observe tigers, in most cases, without interrupting their natural behaviours.
For five years I have catalogued every camera trap image of the tigers in Eastern Thailand, identifying them by their stripe patterns and building a strong sense of them as individuals. Happily, some of the tigers we first recorded in 2008 continue to be observed.
'F1' a female first photographed in 2008 was seen again in 2016. We estimated her to be at least 12 years old which is quite an age for a wild tiger. Our most frequently photographed tiger, however, is a dominant male known as 'M2' who has reigned over this territory defending it from rival males year after year. Also about 12 years old he wears the scars of his hard-fought battles.
A recent photo of M2 showed not only fresh, open wounds - perhaps the result of a fight with another tiger or from a failed hunt - but also a large growth on his front right leg. Whether he will survive these is uncertain.
Yet, tigers can and do survive great adversity. A scrappy male named 'M5' sustained a severe eye injury, presumably in a fight, in 2012. He surfaced again after some time in another survey area and wandered, seemingly as a transient, perservering despite his injury.
Despite their resilience, tigers are still under tremendous threat. In Thailand potentially fewer than 200 individuals remain, representing some of the last populations for Indo-Chinese tigers left in the wild. It is this precarious position that compels us to maintain a high level of secrecy about specific locations and to call for additional support so that these tigers can continue to write their own stories deep within Thailand's incredible forests, well into the future.
Thank you for your ongoing support, with it you can be part of the story of Thailand's tigers.