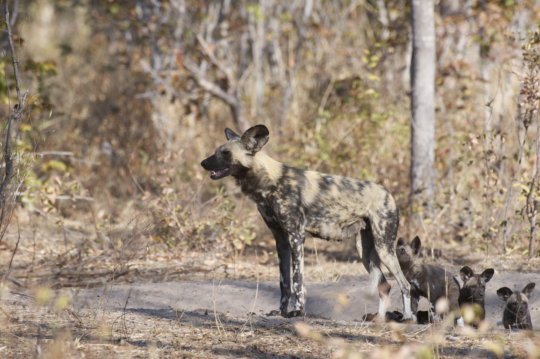 We are sorry to bring you sad news about the death of Socks. Socks was the alpha of the Nyamandlovu Painted Dog pack. One of six pups born in June 2010, her mother was Vusile, an orphaned dog that was homed for a short while at our Rehabilitation Facility.
Socks was the most successful alpha female we have known, producing 33 puppies, of which more than half are still alive today. She rests now, where she died, in the centre of the territory she dominated for more than five years.
When she was killed, her pups were only five weeks old and she was still suckling them. By the time we found her, it was also too late to save the pups. We are not sure how, why or what killed her. It was most likely lions, though there were hyena tracks all around her body.
Socks was a symbol of success and hope for us - a pack thriving in the area where we do so much of our conservation education work. Fitted with a protective collar that saved her life just weeks ago, the collar bore the marks of a deadly, brutal snare. Our anti-poaching units were deployed time and time again into the forests where she roamed. We protected her with everything we have and all the knowledge we have gained so that she could thrive.
Alpha male Browney, and his phenomenal brother Ring, are left to provide for the nine pups born last year, until a new queen emerges to take Sock's place along-side them.
Please help us to continue to give them all the support we can! Thank You!
Links: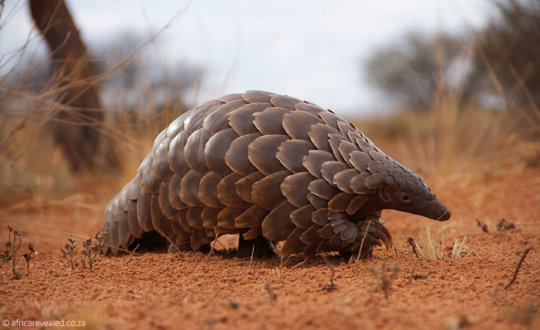 Due to the increase of illegal trafficking and poaching of Pangolins, urgent action has been needed to save what has alarmingly become the world's most trafficked mammal!
Very little is known about the pangolin species in Uganda, their geographical distribution, ecology or behaviours. What is known is that Uganda enforcement groups have reported a sharp spike in the numbers of arrests of 'small-time' poachers, coupled with significant larger seizures of pangolin scales in the last few years.
Therefore there is an urgent need to increase the knowledge and understanding of the pangolin population in Uganda, as well as the threats to these vulnerable animals.
With this project only launching in March 2017, your support will help us achieve our aims of the following goals:
Development of a national policy statement to support the Uganda Wildlife Authority's (UWA) enforcement work and response to the new CITES legislation
Identification of Safe Release Zones (SRZ) for pangolins in Uganda
Training of enforcement officers in pangolin Standard Operating Procedures (SOP) and provision of rescue kits to relevant organisations
Pangolins are in the brink of extinction and the combination of high demand on the black market, their small size and the little knowledge we have of them makes fighting for their survival all the more urgent.
Thank You for supporting this valuable part of our conservation work that is aimed at providing understanding and long-term protection for this unique and elusive scaly mammal.
We are also raising awareness for the pangolin by trying to petition for a pangolin emoji! We would love it if you could join us on building momentum for this, because we feel pangolins certainly deserve their own emoji! Please see the link below to sign the petition and help raise awareness for Pangolins. Thank You!
Links: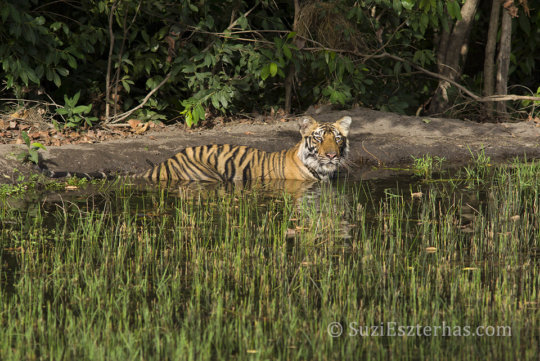 In July, 70% of Kaziranga National Park and Pabitora Wildlife Sanctuary were submerged when the Bramaputra River flooded!
As you are aware Kaziranga National Park is the unique wildlife habitat for one of the most important tiger populations in the world.
Kaziranga National Park - designated as a UNESCO World Heritage Site in 1985 - is home to the highest density of Bengal tigers on earth with approximately 113 adult tigers. Protecting them and this key natural habitat is vital to the survival of the species.
Much of the area's wildlife has migrated to higher ground either within the parks or away from safety of the protected areas. NGOs are continuing to protect the wildlife by enforcing speed restricitons on the roads that they are crossing to exit the parks.
Tigers, like many other species in Kaziranga National Park, would have moved to the safety of higher ground. Luckily Tigers are excellent swimmers and for the tigers living of Kaziranga this is an important skill.
During the seasonal floods, it is your support that helps provide extra staff and volunteers to work around the clock to ensure the safe passage of wildlife, including tigers from parks to high ground. Thank you!
WARNING: Javascript is currently disabled or is not available in your browser. GlobalGiving makes extensive use of Javascript and will not function properly with Javascript disabled.
Please enable Javascript
and refresh this page.