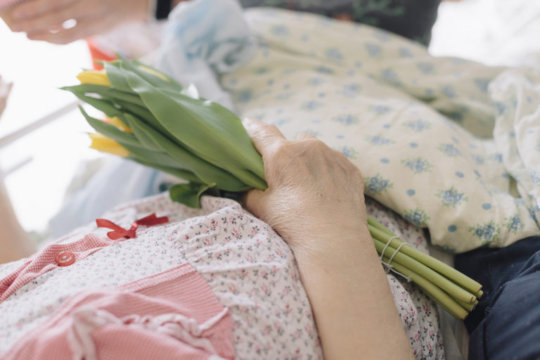 Systematic support
In March the process of creating one system of end-of-life care provision for all hospices came to conclusion. All Moscow hospices are now united with the Center of Palliative Medicine. This has been a significant work in cooperation with Moscow authorities. The results of this joint effort will allow apply unified quality standards and provide charitable support to all hospices in Russian capital.
Renovations
In Degunino, a new and beautiful post for nurses has been equipped. Also, new water coolers were installed, which is a great deal for a hospice. Throughout the winter, employees and patients drank water, filtering it through jar filters, which was very inconvenient, and the quality of water left much to be desired. And most importantly - it took a lot of time, which one simply doesn't have to spare, when needing to quickly brew tea for a patient or just pour clean water for them.
For the Zelenograd hospice we bought beautiful, comfortable summer utensils, which the staff and patients had been waiting for. Another innovation for Zelenograd hospice was the new stress relief room was arranged, with all the necessary furniture to create a cozy atmosphere.
Events
In March, we celebrated Maslenitsa was held in all hospices. A real holiday was organized for the patients of the Moscow hospices and their relatives.. In addition to treats in the hospice, the first weeks of March came with performances by the choir "Ozarenie", ensemble "Bereg", etc.
On March 9, we organized a lecture by Dutch palliative approach expert Frédérica de Graaf "How to behave with a departing patient. What to do and what to say. How to communicate with the patient's family. " The lecture was attended by 80 members of Moscow hospices nursing staff.
The second module of the basic course on kinesthetics (with the first one held in February) was held at the MRC from April 18th to 21st by Barbara Hunel. Participants of the module are nurses of the MTC, coordinators and volunteers.
On April 6, the three-time Olympic ice hockey champion, president of the Russian Hockey Federation, Vladislav Tretyak celebrated his anniversary. He decided to transfers all the 250 bouquets presented to him to the Moscow hospices.
In May, First Moscow Hospice along with others celebrated the Victory Day. For many patients, this Victory Day would be their last. And we made sure those who'd been through the terrors of WWII did not feel neglected. There were treats and small gifts, music and stories. One volunteer brought an old gramophone! Listening to the cracking sounds of old records seemed to have taken everyone a few decades ago. Veterans cried to the "Roads", "Katyusha", "Dark Night" and other songs which reminded them so much of hardships and excitements of their youth.
In June, Degunino hospice celebrated its 15th anniversary. The holiday was vocal, joyful, and delicious. We grilled kebabs in the fresh air, taking the patients who were up to it and their visitors outside for the day. With a little help from the weather department, this turned out to be a real summer picnic.
Volunteers
On 8th of March, a widely celebrated in Russia Women's' Day, we invited volunteer beauticians to Second and Sixth Hospices. They offered make-up sessions, manicure and massage to patients and their visitors.
In early April students of the Moscow Innovation Institute arrived to Degunino hospice. Along with our regular volunteers they cleaned and rearranged the territory after the winter.
Rostokino hospice also underwent a large-scale cleaning of the territory, and a concept for the greening of the hospice was developed.
"Thanks to our wonderful volunteer program, we have greened the chambers - we have planted plants, now they have them, and who should take care of them", says Vera's coordinator for 5 hospices. "The volunteers also dismantled the archive and warehouses. They've done an incredible work! And patients get great pleasure from communicating with volunteers, who always find the time, energy and emotions, to be around, to listen and communicate."
Charitable support to Moscow hospices
01.03.17 through 30.06.2017
Medication – $3,974
Medical equipment – $13,973
Meals – $11,120
Personal care items – $73,731
Financial help to hospice staff – $101,220
Coordinators' work – $83,000
Other expenses - $4,596