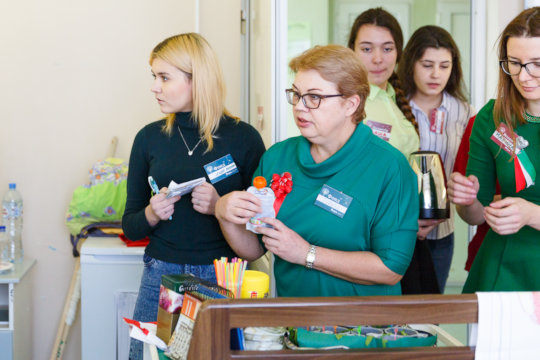 For us, this fall was full of milestones. We celebrated the Fund's 11th anniversary and the positive changes in the Moscow hospices, collected Christmas presents, and even made some dreams come true. Our donors and volunteers brought home-made pies, shared crops from their own gardens, and brought concerts, "joy carts", and therapy dogs to the hospices.
As we approached the World Hospice and Palliative Care Day, we presented our new communication strategy. For the last 11 years, we have been saying that if one cannot be cured, it does not mean that one cannot be helped. More and more people learned about hospices and realized that they might be less scary than they seem, and that the last hours, days, and months of a person's life should be free of pain, filth, and humiliation. Now, we'd like to talk more about the importance of life for the rest of one's life. Therefore, we are starting our twelfth year with a new communication concept "Life for the Rest of Life".
In September, for the first time a head nurse became the head of a hospice in Moscow. A leader plays a crucial role. A leader is the first point of contact between our fund and the hospices. We are glad that the Butovo hospice will be managed by someone who saw what happens when the pain syndrome worsens, heard what the patients want, and understands what kind of support the relatives need.
The "Vera" charity fund organized the first conference "Palliative Care for Children", which had international participants and was supported by the "Lighthouse" children's hospice and the "Children's Palliative" charity fund. The conference participants attended lectures and masterclasses of leading Russian and foreign doctors, including one of the most prominent specialists on respiratory support Dr. John Robert Bach from the USA and the Chief of the Division on Pediatric Palliative Care at the Boston Children's Hospital, a speaker of many international conferences, Dr. Joanne Wolfe from the USA.
The "Vera" charity fund has received two grants! Now we will be able to develop two projects of major importance - "School of Care" and "Volunteers Help".
A team of specialists from the "School of Care" will train family members, volunteers, home care providers, and medical staff in the basics of nonmedical care for terminally ill patients. For example, how to turn patients over without hurting them, how to feed them, how to provide all the "private procedures" while preserving their dignity, etc. In the future, it will mean that more people will be able to receive care in the comfort of their own homes.
The "Volunteers Help" project has been training and coordinating volunteers in the Moscow hospices for many years, and now it will be able to do so much more!
For example, we will organize more training sessions and meetings on the intricacies of communication with patients, their families, and hospice staff.
These are only two out of many projects that our fund undertakes. However, we are very happy that we now have most of the funds for a whole year of these projects' operations.
We had a visit by Patch Adams himself!
If you saw the "Patch Adams" movie with Robin Williams, this movie is about him. Patch is a medical doctor from the US, one of the founders of the hospital clowns' movement, and a writer.
Patch travels around the world with a team of volunteers to support terminally ill children and adults.
So there he was, in a patient's room of the Palliative Care Center, singing like Louis Armstrong while a patient was tapping the rhythm on his lap because he had been a drummer in his youth and loved the blues.
Volunteers of the Degunino hospice came up with the idea of the "Wish Box" where patients can place notes with their wishes. One of them, Maya Vladimirovna, once wrote, "I'd like to meet Nikolay Tsiskaridze". Nobody had the connections to make this happen. But our volunteers wrote a post about this wish on social media, asked to share it, asked for help, searched far and wide, and it happened so that Nikolay Tsiskaridze heard about this. Two days later, he came to the hospice for a visit. And the next morning Maya Vladimirovna was no longer with us. It doesn't matter how many days one has left in his or her life. What matters is how much life there is in each of these days. We are very grateful to everyone who made this meeting a reality.
Thanks to the help of our donors and volunteers, we can proudly say that at the hospice, one can truly live one's life to the full for the rest of his or her life.
Our foundation has been spending the average of 206927$ to cover for the following needs of Moscow hospices:
01.09.17 through 30.11.17
Medical equipment – $13878
Meals – $12153
Financial support to hospice staff – $115470
Coordinators' work – $61757
Other expenses - $3669
*We thank Veronika Demichelis for her generous help with rendering this text from Russian into English.