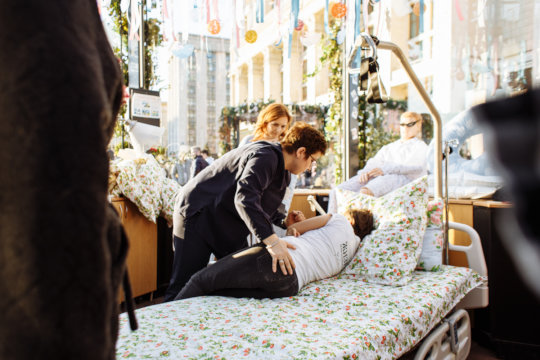 Just imagine: the very center of Moscow, Manezhnaya square, the city festival, and the VERA Fund's pavilion, where visitors get their make-up done and their hair braided, where Nyuta Federmesser uses a full-size dummy to show how to take care of a terminally ill person, where people learn why they should stop fearing hospices. These are not dreams, but reality.
We did have our very own pavilion at the city festival "The Easter Gift" where anyone could not only get their make-up done, but also get to know the Fund's volunteers, try to care for a terminally ill patient under the guidance of Nyuta Federmesser, our founder, and sign up for an introductory meeting for our volunteers.
We had visitors who asked: what is palliative care?
Who are volunteers and how much do they get paid?
How many hospices does our company have?
Therapy dogs and concerts in a hospice - this must be expensive?
It is so cool that we had a chance to answer all these questions.
We also had a chance to explain that, at the last stretch of a life's journey, when one cannot be healed, one can still be helped in a professional manner.
We could explain that volunteers are highly motivated people, which is why they help the Fund free of charge, in their own free time, and in different ways.
We could say that concerts and events which happen in the life of a hospice are free for us and for our patients.
This was an incredible experience for us and a perfect opportunity to tell the public about hospice life, events, and people who turn a hospice into a real home.
The spring and the first summer month have been busy for the Moscow hospices: many holidays were celebrated, dozens of concerts and master classes were held, new flowerbeds were made, and, amidst all that, we still had a chance to sit in the shade of the trees and enjoy summer treats and pleasant conversations. Last but not least, the Center for Palliative Care saw a first wedding in its history.
Many people dream of saying "I will love you until the day I die", but very few can actually say that it's true. Anatoly knows that: he is a patient of our hospice. His wife Olga and he share many things: seven children (they had two of them together), eight years of love for each other, a few cats and dogs, and several chemotherapy treatments.
This spring they got married in the Moscow Center for Palliative Care where Anatoly is staying. A clerk from the Civil Registry Office came to unite them in marriage, the donors gave them a wedding cake, volunteer musicians helped set the mood for the event, and their friends and children were there to congratulate them and celebrate together.
The couple met when Olga (a charity foundation's director) were looking for potential donors, but instead found someone who needed help. When she met Anatoly, he needed a cancer surgery. Later, they faced a long and complex treatment and remission, when two of their children were born. Recently, the disease returned, and Anatoly needed palliative care.
"If not for palliative care, we wouldn't have come to a conclusion that we need to keep living, get married, and have a celebration. The thing is: what's the point of grieving? We enjoy every new day that comes and think about other things we'd like to do. We are extremely grateful to the doctors and the whole team for helping us to get back on our feet. They gave us a chance to not think about the difficult part of the disease. Instead, we can focus on the joy: the joy of having each other, loving each other, and living," says Olga.
One, two, three -- the bride tossed the flowers to the crowd of girls of all ages, among them, patients in wheelchairs, nurses, and volunteers. Of course, later there was champagne, appetizers, dancing, and jazz music. Anatoly cannot stand on his feet anymore, let alone dance with his wife, but his hands kept moving non-stop, following the music. It does no matter how much time one has left: there is still enough time to do all that we can.
Our foundation has been spending the average of 258791$ to cover for the following needs of Moscow hospices:
01.03.18 through 30.06.18
Medical equipment – $28663
Meals – $2252
Financial support to hospice staff – $112435
Coordinators' work – $110027
Other expenses - $5414
*We thank Veronika Demichelis for her generous help with rendering this text from Russian into English.