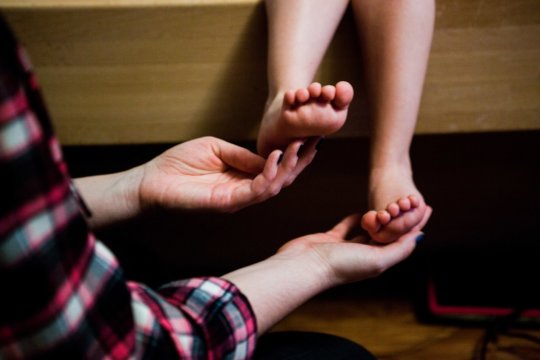 We want every child to have a fun summer, even if a child is terminally ill.
This is why we are so excited to receive letters and pictures showing a mom and a daughter hiking in the mountains or taking a walk in a park by an apartment complex and squinting in the sun together.
This makes us happy because we know that these children could have been in the ICU, and doctors would have been trying to convince their parents to not visit anymore.
However, we can change this.
VERA Hospice Charity Fund supports families with terminally ill children who have no access to palliative care in their city or village.
We get involved if parents have lost hope in getting help from the government and receiving that which they are entitled to: functional wheelchairs, medicine, and diapers.
We are there for them if they think of their lives as "before" and "after" and if they need help handling the accumulated fatigue and pain.
We help if they need to purchase medical equipment which costs an inordinate amount of money for a common family but will ultimately determine whether a child will live in the ICU or at home.
Just look at the letter written by Masha's mom:
"Right before May 9, the two of us - Marusya and I - completed a "rally" of sorts: Simferopol - Novy Svet, 110 km.
We spent 2.5 hours on the road and had 4 "pit-stops" for the co-pilot Masha :)
Masha is a true Russian: she loves fast driving (for us, 80-90 km/h is fast); she smiled all the way. Just towards the end of the trip she started whining a little bit, and I had to sing children's songs loudly, which calmed her down a little.
Just like a sparrow in a Russian children's book who stopped by different friends for a meal, we, too, stayed in Novy Svet for a day and then spent two nights at my friend's place in Sudak. I didn't dare to go swimming as the water in the sea was only about 17 degrees Celsius. This trip was a test drive of sorts, nothing planned, just like everything else in our life.
Then the weather turned, and we hurried back home. It was raining all the way back home; sometimes it poured so heavily that the windshield wipers struggled, and the car swayed on the road. To make matters worse, Masha had trouble lying still, she even yelped and cried sometimes - her dystonia bothered her as it usually does in bad weather. So, we made many stops, and our trip back home took about 4 hours. This was a real test for both of us.
It was a huge achievement for me, since I've only been driving for 5 months.
And I don't know anyone who would have taken a trip alone with a child in Masha's condition. Masha can't hold her head up, can't sit, can't swallow, eats through a PEG tube, and has a symptomatic intractable epilepsy, partly controlled.
I drive "Zhiguli", the 10th model, which has no power steering, so driving through the twists and turns of a mountain road is new and exciting for me, and I feel like a rally driver even at the speed of 40-50 km/h.
If someone told me 3 years ago what we would be up to, I wouldn't believe them," - says Olga, mom of Masha who is sponsored by the children's program of the VERA Fund.
All of this is possible thanks to your generosity. Thank you!
Below is the data on allocated charitable expenditures this time:
01.03.18 through 30.06.18
Medical equipment and its service … $146021
Equipment consumables…………..... $129960
Special nutrition……………............... $84612
Financial help to families …............... $24908
Transport services …………….......... $2499
Funeral services ……………............. $6900
Work of team of this project (coordinators, psychologist, lawyer and etc.) …....…………….......……………........ $67872
Other expenses …………….............. $579
*We thank Veronika Demichelis for her generous help with rendering this text from Russian into English.