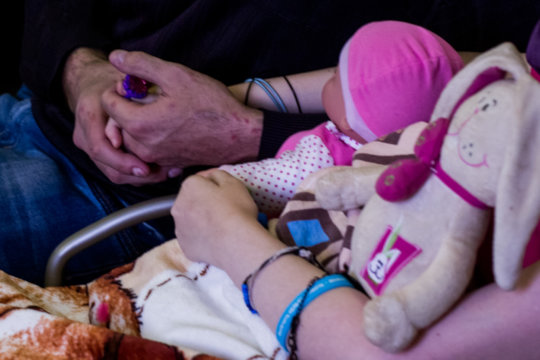 February 23 is a major holiday in Russia—the Defender of the Fatherland Day. It's a celebration of courage and perseverance in the face of adversity. In honor of this holiday, two years ago we shared stories of courageous dads—dads who bear no arms but who always have to live with a feeling of being on the battlefield, because you have to fight a war with a terminal illness of a child even if you're a pacifist. So, this year we decided to write and update about them and how they are doing.
Evgeny, Labinsk, Maxim's dad
"Maxim is the third child in our family. Our oldest child is healthy, but we lost the second one. At that time, there was no diagnosis as such: for four years our critical care physician was trying to pull him through—without anything, without therapy, on symptomatic treatment alone—but... he's gone.
Then Maxim was born, and it became clear that the situation was identical with the previous one. However, Max already has a diagnosis and treatment (though only provisionally efficient). By this age, Artyom was already gone, and he lived his life bedridden, while with Maxim we can even sit and play," Evgeny said two years ago.
Here is what he says this year:
"Max is now at home.
Back then, I believe, we were still in intensive care, and now, thanks to the Fund, we have our own lung ventilator and equipment.
Nikita, our oldest, plays with Max every day, talks to him. They watch cartoons together.
We don't plan, we live day by day: we're alive today—it's already good. This is how we do it.
Max's speech has become more comprehensible. Well, comprehensible in a sense... Generally speaking, except for us, no one understands him, but he started to speak in sentences. We quote songs, cartoons. When we read his favorite stories, he speaks along because he knows them by heart.
We're homeschooling as of September 1.
We know our letters and numbers. We can't write, because Maxim's muscle state has worsened: one arm, and it barely works.
People (the teacher, for instance) often tell my wife: "How can you be so calm? I would have lost my mind already." Somehow, we don't. It's been so many years, and we manage everything. We wish it could be better, but we're at home, we're together. Everything is not as bad as it could have been."
Vyacheslav from Barnaul, Polina's dad, says: "Everything is the same: I go to work during the day, and the day is gone; I come back home at night, and it's time to put everyone to bed. So, I spend a full day at work, but then I still have a day left. But I'm still at home, I don't go off the grid!
At home, I help with the second kid: the son, Artyom, is all mine (we had him in 2015). I put him to bed, and my wife puts Polyushka to bed.
Artyom, our youngest, loves Polina. He comes, kisses her hand, and says: "Oh, Polyusha, I love you so." He is nice with her, gentle.
In the summer, in July and August, we go to a resort. It's beautiful, almost empty, and there's flowers and a pine forest. If it's not windy or rainy, we go straight to the pine forest. In June we don't—there's a lot of mosquitoes, and recovering from mosquito bites is extremely hard for our child.
Oh yes, last year we went to an ostrich farm. Polina gets exhausted quickly in a wheelchair, but an hour's walk is manageable for her. She liked ostriches.
My wife helps Polina to learn sounds, words, names of animals.
We're hoping to find an in-home teacher to help with motor development, as well as a speech therapist.
My wife and I are not teachers by any means, but we give Polyushka what we can."
We are happy to support all of our wonderful and incredibly strong families with terminally ill children. And we're so glad that we always have your support, thanks to which the work of the Children's Program becomes possible.
We would like to share the results of the Program in 2018 with you:
In 2018, 440 children in 66 regions of Russia received aid;

The average monthly budget of the children's program was 7.45 million rubles;

We signed 2847 agreements;

We conducted 840 legal consultations, 382 psychological consultations (with a schedule of 3 days a week), 417 medical consultations and 12 medical trips, as well as a countless number of consultations by coordinators.
We achieved these results thanks to consistent help from you! Thank you so much for this!
Below is the data on allocated charitable expenditures this time:
01.10.18 through 31.12.18
Medical equipment and its service … $86684
Equipment consumables…………..... $73118
Special nutrition……………............... $87916
Financial help to families …............... $14635
Transport services …………….......... $11860
Funeral services ……………............. $2670
Work of team of this project (coordinators, psychologist, lawyer and etc.) …....…………….......……………........ $43002
Total …………….............…………….$319885
*We thank Veronica Demichelis for her generous help with rendering this text from Russian into English.