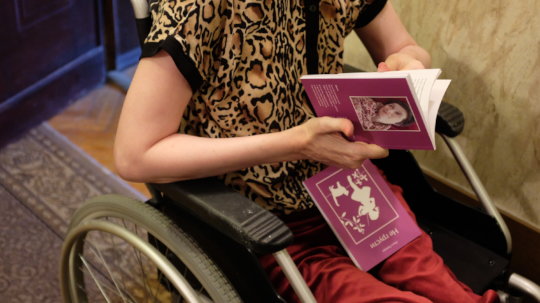 Dear friends! We're happy to share our news for the last three months.
Since April, the Fund started helping another Moscow institution: the Palliative Care Unit of the City Clinical Hospital no.15, located in Vykhino.
The unit takes up two floors. 20 adult patients share five rooms.
Now it has a Fund coordinator: Svetlana is a microbiologist and an artist who will have to take a blank canvas and create an atmosphere of home in this hospital unit. It's not just about small details that make life more comfortable — ficus plants, coffee, blankets, and napkins—it's also about relationships with medical staff and patients.
The patients here were not at all used to playing bingo, going outside for walks, or saying what they want. But we are slowly getting them used to the fact that palliative care unit can be cozy, that it can have people who care, that you can be yourself and do what makes you happy even among the bleak walls of a government facility.
Sveta tells us:
"Yesterday I went over to Zoya and offered her to watch a movie on a tablet. She was surprised... "I'd like to," she said.
I turned on "Belye Rosy" ("White Dew"). I love this film too, so I sat down and started watching it with her, completely entranced :) Suddenly, Zoya turned around and looked at me in a somewhat militant way: "I want some sausage!" I exhaled. "Just a moment, I'll get you some," I said.
- What kind of sausage would you like?
- Wait, I can have some?..
- We'll ask, no problem!
I brought her some sausage and helped Zoya sit up more comfortably. We got to talking (as you know, eating sausage inspires small talk).
And then Lenochka said: "I'd like a summer fruit salad... a real summer one!"
Oh, and Marina watched "Afonya".
Marina is a beauty, and she is so clever; she listens attentively while I read her "The Book of Culinary Stories", loves music, thanks me. I have yet to see her without a smile on her face. I always look at her and think that she smiles with her whole internal, giant sun, and there is no bigger smile in the world... But as it turns out, there is— after seeing "Afonya"! :)"
In one of the rooms of the Center for Palliative Care (CPC), in the evening, patient Vlasta is reading "War and Peace" out loud to her roommate Olya.
Vlasta came to CPC in July last year, and the doctor's prognosis was discouraging. It's been almost a year since, and Vlasta still has the fourth volume to read.
Olya and Vlasta met at the Center for Palliative Care and became friends; both are our patients. They've spent many days together, sharing the same hospital room. They've been talking a lot and supporting each other. Vlasta has been taking care of Olya, and Olya has been supporting Vlasta spiritually and psychologically.
They have been reading "War and Peace" together, attending events organized by volunteers together, and once decided together that Olya's poems shouldn't be written "for the drawer", that they can help some people who are having a hard time, who are in despair, who really need some support. Thanks to the volunteers and donors of the VERA Fund, it became possible.
For months, every evening, Vlasta and Olya were reading, choosing, discussing. This was a focused, meticulous effort of two friends, two patients, two young women who found a purpose and a goal, who found each other, who had a mission. Later, they discussed the title, design, color, and artwork. And then they waited for the collection of poems to be released. In discussions, Olya often said:
"Let Vlasta decide. This is for her. It's all for her."
And Vlasta used to say:
"I didn't appreciate life before. I never thought that I could be loved. And only here, in CPC, I met so many good people who grew to love me!"
Finally, the book was released. By then, Olya was discharged. The Fund's volunteers and staff, together with Vlasta, came to visit Olya and were given a warm welcome at her home. Together with Olya and her parents, they drank champagne, had tea and cake, and celebrated the fact that there are so many good and caring people in the world who can move mountains, get the moon and the stars—achieve something that seems impossible.
Olya and Vlasta gave two copies of the book to CPC and each of the hospices so that anyone facing hard times could take this book, see the Light, and feel the Love!
At the Tsatitsino hospice there is also a patient who is in love with literature, who recently told our coordinator Katya about her dream coming true:
"You know, Katyusha, when I found out 11 months ago that I didn't have much time left, I decided to fulfil my dream.
I thought long and hard and then realized that most of all I wanted to read all of Dickens' books.
So, I went to the library, and they only had two editions of his collected works: one in 30 volumes, from 1957, and another one in ten volumes, from 1970s. Of course, I chose thirty volumes.
I thought that it wasn't in the cards for me to finish it, but I did it in just three months.
Dickens is such a lively author, there are so many emotions in his work! And he is wise—he can teach you so many things. When you read everything that an author wrote during his time on this Earth, it's as if he becomes your friend. Can you imagine: it turns out that it's so easy to find a friend..."
All these stories happen in hospice care thanks to the help of volunteers and donors.
Thank you for your trust and support!
Our foundation has been spending the average of 118876$ to cover for the following needs of Moscow hospices:
01.04.19 through 30.06.19
Meals – $2074
Equipment consumables – $5243
Coordinators' work – $103510
Other expenses - $8049
*We thank Veronica Demichelis for her generous help with rendering this text from Russian into English.