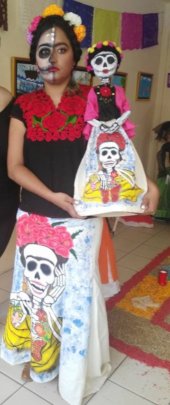 Being an enthusiastic and energetic high school student at Escuela de Educación Especial de San Miguel de Allende, Fernanda focuses most of her time on academic studies. However, several times each week, in the afternoons after class, she loves to participate in the school's sewing workshop. It is there that her passion for art, design and creating beautiful things comes to the forefront.
Fernanda, profoundly deaf, dreams of a career in fashion design. To help express and record her designs Fernanda keeps a journal with sketches of her latest ideas. True to her Mexican roots, one of her recent sketches was of a "Catrina" dressed Frida Kahlo style. (Catrinas we should explain are figures of a woman skeleton usually dressed in Victorian style garb with a large plumed hat. They are prevalent at the Day of the Dead celebrations held in Mexico during early November and have come to symbolize the event).
From this sketch Fernanda created her Catrina from paper mache complete with hand embroidered blouse and hand painted skirt. Through an interpreter Fernanda explained, "I am so happy to win first prize in the school competition! It feels wonderful to be first!" Later Fernanda's masterpiece was purchased by an avid school supporter and a collector of Catrinas. You can only imagine the pride and satisfaction that this recognition gave to Fernanda!
To add to this achievement, last week the school held its 2nd Annual Christmas Craft Fair to showcase and sell the many wonderful products made by all of the older students in the caprentry, jewelery making and sewing workshops. Fernanda joined her fellow students in creating many beautiful Christmas pillows, table runners, cross stitched bags, and young children's dresses. During the event we heard many shoppers comment on how the quality of the this year's items have reached new levels of professionalism. We know Fernanda, along with her fellow student sewers, are encouraged by these votes of confidence. Fernanda ardently contends that she will continue to pursue her dream of a career in fashion design. There is nothing, especially not even her own deafness, that will hold her back! And the teachers and volunteers at Escuela de Educación Especial will be there to guide and encourage her, and others, along their way.
Our sincere thank you to all our Global Giving supporters! Your donation helps provide an education to the deaf and hard of hearing children and young people of San Miguel de Allende which will enable them to become literate, independent and productive citizens who set and achieve life goals. We wish you Happy Holidays!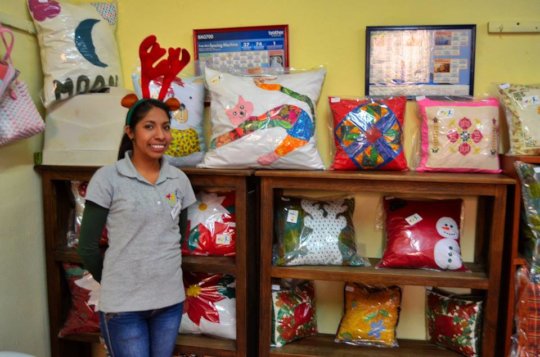 Links: