Fostering Deaf Awareness, and Asking "What Does It Mean to be Deaf"?
On November 29, 2019 National Day of the Deaf was observed by Escuela de Educación Especial de San Miguel de Allende. This was a day meant for all to reflect on what it means to be Deaf; as best as one can who is hearing! Teachers, families, friends, supporters and, most importantly, the students themselves gathered to share with each other.
It was a day to celebrate one's deafness. (Yes, it is possible to celebrate deafness if one has pride in oneself and in one's community.)
It was a day to create awareness around what it means to be Deaf.
It was a day to educate, inform and entertain.
All of these things were accomplished, and more, on this remarkable day.
Highlights of the event included informative speakers on issues facing the Deaf, a presentation of a children's book illustrated by Jesús a student of the school, lively and entertaining stage performances by a visiting interpreter/performer and several engaging dance and sign language songs performed by the children themselves. The touching finale was a song performed by the students and their parents together, communicating their affection for each other in sign language. Many of the parents are only just beginning to learn Mexican Sign Language and this public display of tenderness was extraordinary for the students and for those fortunate enough to be there to witness it.
As Day of the Deaf is also intended to educate and inform, we share some important facts. INEGI (a federal government agency in Mexico) reports:
-of the over 5.5 million people with disabilities in Mexico, 12.1% or 694,451 are Deaf.
-6,000 are born each year with a hearing impairment.
The Deaf, along with many others who have disabilities (or as we like to say "those with different abilities"), are only now gaining some recognition, particularly in smaller centers such as San Miguel de Allende. Municipal government officials attended this event and organized another observance entitled "Dia de Discapacidad" or Day of the Disabled the following week. It's not a lot, but it is a start.
It wasn't until 2005 that Mexican Sign Language or LSM was even recognized as an official language in Mexico. The biggest hurdle, as we see it, is to convince those with decision making power to allocate resources to better train teachers and interpreters in Mexican Sign Language within the public school system. Might it be possible for a student from EEESMA to one day fill such a role? Those associated with EEESMA are confident that it will be. We also know there is so much more work still to be done.
On the bright side, advances in technology hold great promise, particularly when it comes to bridging the communication barrier. An announcement was made this day about a new phone app that will translate oral language into sign language, hopefully available soon.
Because of the lack of easily accessible information about the Deaf community and about Deaf Education to most in and around San Miguel, families of Deaf children are often left to feel helpless and don't know where to turn for guidance. EEESMA continues to work diligently to get the information out there, and this event certainly helped accomplish that. Sanjuana Garcia Salgado, Director of EEEMSA, together with her team and all the students, produced a very successful presentation. Join us in offering them our congratulations on a job well done!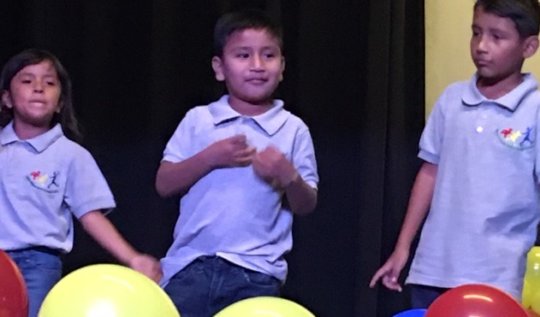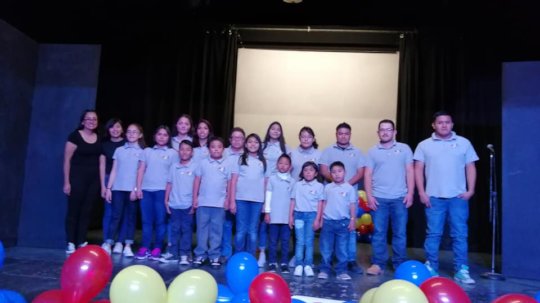 Links: