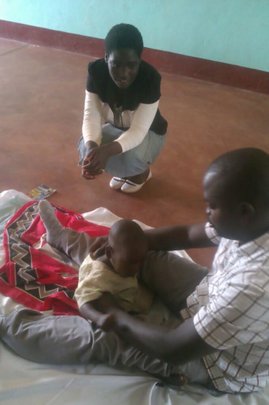 Since the beginning of the project Marina (our project manager in Malawi) has been
going to the hospital in Mangochi with the children who needs support.
The physiatrist of the Mangochi Hospital recently visited the village near Namwera the village where the majority of our children come from. He visited them in a hut built by a volunteer of Tyende Pamodzi group. This malawian volunteer (one of the few non-HIV positive), wanted to build this hut just to make it available to all those people who cannot go to a doctor or hospital.
Marina proposed to the doctor to go to the village once a month for visits; not in the hut, but in the lobby of the headquarters of the group. On the first day he went there he visited 50 children!
There are seven children who have started the rehabilitation, but there would be more.
Not everyone can be subjected to physiotherapy, but many require aids.
Marina is considering the possibility of involving the mothers of children in the post-rehabilitation, to prevent the interruption of therapy after leaving the Feed the Children centre. The collaboration of the mothers is essential to a successful rehabilitation.
In Namwera the physiotherapy service doesn't exist any more and this fact forces people to go to the Mangochi Hospital, which is now overcrowded.