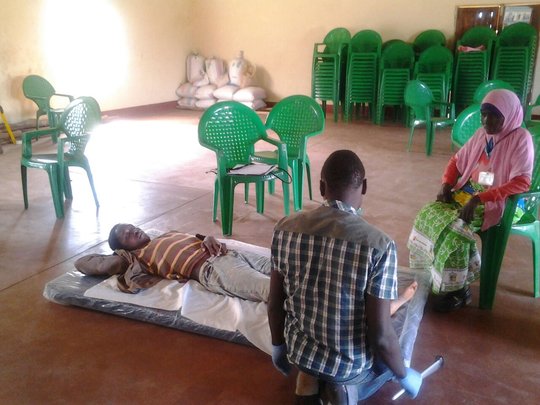 Thanks to donations received from other donors very sensitive to "Rehabilitation Project" we have achieved important results during these first months of work.

Till now doctor Gift, the physiotherapist of Mangochi, visits 70 disabled (54 children and 16 adults), among them 38 have recurred regularly every month to undergo physical therapy while the other 32 have attended sporadically. To try to understand better the various cases and situations, it will be filled a form (asking only two voluntary group who can write) for the collection of additional information about patient's living conditions and family.
The doctor Gift pointed out that being alone is not able for him in one day to visit 40 people, therefore he has proposed to visit the patients 2 times a month, dividing the workload in 2 days, visiting 20 patients at a time.

Due to the considerable difficulty and distance about twenty disabled need to be transported with the pick up at the Hall. It takes about 3 hours to do this.
Volunteers group Tiyende Pamodzi and some care givers who accompany disabled, also provide to the people gathered in the hall and waiting to be visited, a meal consisting of a bowl of rice porridge. Welcome people with food in a context of extreme poverty such as the rural countryside of Malawi, is extremely significant and encourages the careful and patient participation.
Our referent Marina Zanotti says that children who began treatment are better followed now and the mothers and grandmothers has increased their attention. There is a lot of collaboration between the mothers and the volunteers of the group that are very interested and involved in the project.
In case of identified malnourished children, volunteers give them 2 kg of rice and 2 kg of likhuni phala, a flour rich in vitamins and minerals.
They recently purchased four 10/15 cm high mattresses to be able to do rehabilitation exercises to children (as you can see from the photos).

There are more and more people who, after visited, require special safeguards to improve their living conditions (wheelchairs, normal and special, crutches, sun angle, walkers etc ...) as well as people who need to be visited by specialists or consultants of Mangochi's Hospital.

Much has been done since the beginning of this project, with new donations we can do even more!