"I am so glad that I am involved in this program. Now I know there is someone who is always there for me, a person to whom I am important, a big sister I have always been looking for": said one of the mentees approaching me. This mentee is from one of the local orphanages. She was known as a girl full of aggression and was misbehaving at school, but as soon as she started to participate in our mentoring meetings she began to change.
Every girl needs attention, especially girls from orphanages. When they don't receive that attention, in part due to a lack of love and attention from their family members, they become aggressive and start to misbehave. Our mentees seek attention through aggression, anger, and poor manners to fill the gap they are feeling. This problem can be solved by providing girls from orphanages or difficult family situationswith a chance to have a person who will devote a part of her time to them. This person, in our case, is the Mentor. With our program we could involve 11 new mentees this year. These new girls found their big sisters in our project. During these several months we have realized 176 individual meetings. Each mentee received 50 hours of individual attention from their mentors.
"She has changed a lot. She started to pay more attention to her classes and behaves well at school. I think mentoring helps her to reveal her good traits and concentrate on them and it also helps her to feel appreciated": said one of the school teachers during our monitoring meeting. The change in the mentee's behavior was obvious even if she took part in the program for only several months. Some of our mentees start our program struggling with school. They don't study well in their classes or don't get along well with their classmates. We have found that as we work with mentees and give them attention, encouragement, and an opportunity to express themselves, many start improving in school. When this particular mentee started her individual meetings she found what she was looking for in her mentor and felt more relaxed and calm. We strive to have every mentee feel this way about their mentoring relationship.
Mentoring relationships help not only to give mentees the chance to feel respected and important but also, they help mentees study well at school, behave well and express less aggression. For each mentee we spend $250 per month.
Along with the mentoring meetings, 15 more girls took part in our skill building trainings.
"You know, yesterday I taught my classmates about communication skills. At the class we were talking about communication and the importance of having the right skills for communicating with others. So I mentioned the most important skills & traits that a person should have while communicating with others. Everyone even the teacher was looking at me with a surprising look," one of the mentees said out loud during the evaluation.
During these past several months the mentees learned about communication skills, ethics, career planning, student loans and credit cards. They are getting ready for higher education, student life, and living on their own. In two months the mentees took part in 18 hours of group meetings. We spent $150 for each mentee per month.
Three of the mentees also participated in tutoring classes. They received tutoring in English and Armenian languages. Due to the tutoring classes, one of the mentees raised her grades 3 points; instead of 16 she got 19 out of 20 during her exam. As she said, the teacher was amazed with her responses during her classes. These mentees are entering university in June. It cost $180 per month to provide tutoring for these three mentees.
Our program is approaching a problem from several sides. We provide the mentees with mentoring relationships to help release their aggression, we provide skill building trainings to encourage them to achieve their goals and be at the same level as their peers, and tutoring to be able to study better and enter a university. As we continue to work with our mentees and create an educational, fun, and encouraging environment, we hope you will continue to follow us and help our mentees grow into successful women. Thank you for your support.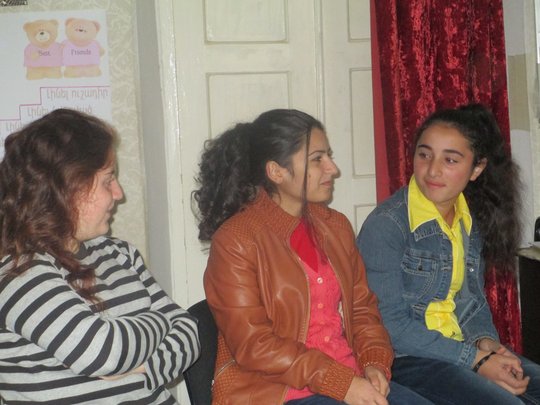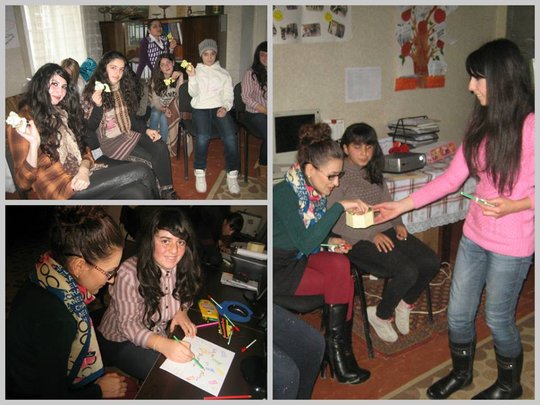 Links: