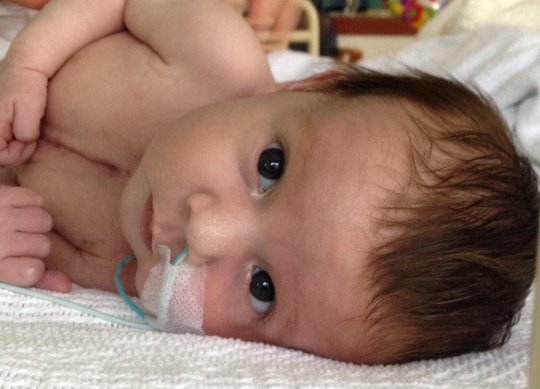 At Yorkhill Children's Charity, we are truly privileged that Yorkhill families share their remarkable stories with us. Leo's story was first shared with our supporters in February 2015, at the end of a successsful neo-natal appeal, which raised over £500,000 towards lifesaving equipment supporting the smallest and most vulnerable babies. By supporting Yorkhill Children's Charity you are helping to ensure that sick children all over Scotland receive the care that they so rightly deserve.
Leo Lionheart
Leo was born on 18th August 2014 with Hypoplastic Left Heart Syndrome, a congenital heart defect (CHD), which means that the left side of his heart had not developed properly and would need a series of complex surgeries. The first would be within a week of life, the next at 6 months, and the last at 3 years old. Although mum Lynsey and dad Stephen knew of the condition before birth, nothing could prepare them for the coming months; months that they would spend by Leo's bedside at Yorkhill Hospital away from family, friends, Leo's brother and sister, and all sense of normality.

Leo's First Few Days
At just a few hours old Leo stopped breathing, bringing home the severity of his condition to his already emotionally drained family. Although he recovered, it would only be 3 days later that he required life-saving heart surgery. Lynsey and Stephen remember that difficult day:
"Leo went away to theatre at 10am. This was the longest day of our lives. We had no idea how things were going or how long it would take.
"After 14 hours we eventually got a call at midnight to tell us Leo was out of theatre and we could make our way over.
"Our beautiful, perfect baby was swollen to double the size, heavily sedated, chest open, heart beating in front of us. Ventilator tube down his nose. Covered in tubes and wires. Loads of people all busy round about him.
"The next few weeks were a roller coaster with all the good and really bad days but the support we got from our families, all the staff at Yorkhill and each other helped us through. It was amazing to see Leo's progress and he gradually look like himself again"
Yorkhill Becomes Home
As the days, weeks and months passed, Yorkhill Hospital became home to the new family. Leo grew stronger, but remained in a critical condition. Each day brought its own challenges, but also moments of delight; dressing Leo in a baby grow, first cuddles, new outfits and although the 1st month Leo was too critical for visitors, he could now meet his extended family. Lynsey and Stephen started to learn how to care for Leo when it came time for him to go home, including feeding and how to monitor oxygen levels.
Just as hope was rising that Leo would get home soon, Leo's condition deteriorated and the family learned that they would have to spend months more in Yorkhill to build up his strength. With Stephen having to work 4 days a week 150 miles away at this point, it was devastating news. The support of friends, family and the Yorkhill staff helped the couple through, as Lynsey recalls:
"We knew the nurses pretty well by this point and the other families that were in the same kind of position as us helped us through. We knew we weren't alone.
"We found out the hard way the terrible things that go on day to day much more often than anyone would think. We celebrate the tiniest achievements and understand things that not very many people do"
Christmas at Yorkhill
At 4 months old, Leo spent his first Christmas at Yorkhill. Staff, friends and family did all that they could to make it a special time for the family, and Santa made a special stop at Yorkhill with presents for little Leo. Stephen's two children Natalie and Jamie had come down from Aberdeen to visit their baby brother. As most families and children celebrated over the Christmas & New Year period, Leo was undergoing countless procedures to prepare him for the second major operation of his life but one thing was for sure, he always bounced back with the biggest smile. He loved his bouncy chair, telling big stories to anyone who listened and everyone doted on him.
On Monday 19th January, at 5 months old, Leo underwent his second heart surgery with Mr Danton. Although a success, the 13 hour procedure and serious complications left Lynsey and Stephen fearing the worst. On several occasions they were called into a private room to discuss the very real chance that they would lose Leo, and as time passed the situation became graver. With discussions turning to a potential heart transplant or valve replacement if he made it through the next few days, Lynsey and Stephen felt that it was time to christen Leo.
A Very Special Wedding and Christening
Stephen and Lynsey contacted Yorkhill's chaplain, Jim Meighan, to arrange Leo's christening in the hospital. The couple had also been considering marriage for some time, and Jim was honoured to be asked to perform both ceremonies in the hospital at Leo's bedside in intensive care. After a quick trip to the City Chambers to organise some paperwork, the ceremonies were underway.
Lynsey and Stephen remember their day:
"The PICU staff surprised us by decorating bed space with bows, bunting, printed and laminated signs saying "congratulations" and they also had confetti and a card from Leo with his hand prints.
"The Minister turned up in a kilt and performed the most amazing wedding and christening service. It really was the most perfect evening and we were so happy to finally be married.
"The cost or fancy venue wasn't what it was about. Instead it was about mine and Stephen's commitment to each other and everyone's love for Leo.
"Our family turned up expecting a christening but Jim started conducting a wedding service. They were shocked but happy, I don't think there was anyone not crying, it was a very emotional night.
"Leo woke up whilst we were saying our vows. I think he knew he was surrounded by people that love him and don't want him going anywhere".
A Critical Time for Leo
Following the happy time at the wedding, it became clear that Leo's condition had deteriorated. Not viable to receive a heart transplant, it was decided that Leo would have a valve replacement, a procedure that carried significant risk and had never been done in Scotland with Leo's heart defect. Stephen and Lynsey said what they thought could be their last goodbyes to Leo before walking with him to theatre. They pick up the story:
"By this point we didn't know if we would see him again. We said if he doesn't make it at least we can always say we've given him every chance we could. We weren't ready to give up on him by refusing the surgery but didn't expect him to come back.
"I phoned Leo's bed space nurse at 6pm – "he's just back" she said! Overjoyed we rushed to PICU. Mr Danton told us there were no dramas, that the op went really well.
"We went to see Leo and he was a great colour, not dusky grey like the last one but a lovely pink colour and red lips rather than purple, and he wasn't swelled up like the previous 2 ops.
"An operation that's gone well... Maybe this new valve is what he's needed all this time?
"We don't know what the next year or even week will bring. We could be in Yorkhill another 6 months, we could be on our way to Newcastle for a heart transplant, but just seeing Leo smile again will make it all worth it.
"If he doesn't make it through I can honestly say he's had the best surgeon and team looking after him, we've given him every chance and had the honour of being parents to an amazing wee boy who really is a miracle.
"He's brought happiness, smiles, showed us the true meaning of love, hope, family, being there for each other, appreciating the simple things in life, making the most of each situation & definitely made friends for life.
"Hopefully one day we can have a christening with all our family & friends & wedding reception to celebrate when we get home.
"Please sign the organ donation register, you never know when you or a family member might need one. Kiss the ones you love, hold them close no one knows what tomorrow will bring".