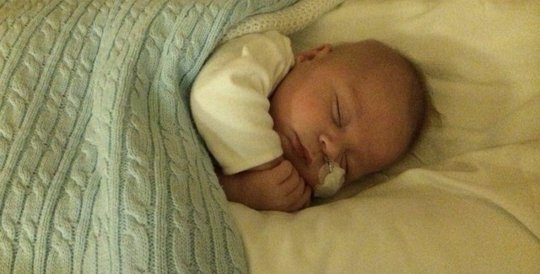 Going home...
Oliver was born in January 2014 and his Mum Kelly-Anne, Dad Scott and big brother Luke were delighted to welcome him home. Taking your newborn child home should be a joyous time, however only one night after leaving hospital, things were to take a dramatic turn for his family.
Oliver was rushed by Yorkhill Children's Charity's Paediatric Ambulance to the Accident and Emergency Department at the Royal Hospital for Sick Children due to growing concerns for his health. On arrival, Oliver's blood sugar level was terrifyingly low which resulted in a seizure. With both Scott and Kelly-Anne looking on, doctors and nurses resuscitated and stabilised little Oliver; however this became the beginning of a frightening journey for the family.
"In the early days of Oliver's admission, we received some devastating news and were told to prepare for Oliver to be in hospital for weeks and possibly months. I just wanted to take my week old baby home".
Oliver was admitted to the Neonatal Intensive Care Unit, which was a daunting experience for the family. Kelly Anne recalls her anxiety at the medical equipment, her heart sinking each time a light flashed or an alarm sounded - always fearing for the worst. However, Scott and Kelly-Anne recall being touched by the care shown by the staff who went above and beyond their call of duty to reassure them, and were confident that Oliver was in the best place possible.
"I was leaving the ward very upset and one of Oliver's nurses ran after me and just hugged me. She saw my despair as a mother and reached out to me. Gestures like that helped to soften the sterile and controlled environment we were all living in".
A Diagnosis for Oliver
At 4 weeks old Oliver was diagnosed with Congenital Hyperinsulinism (CHI), a rare condition which causes individuals to have abnormally high levels of insulin, a hormone that helps control blood sugar levels. Affecting only 1 in every 50,000 newborn babies, the severity of CHI can vary from lethargy and irritability to serious breathing difficulties, seizures and comas.
Oliver spent 8 weeks in total at the Royal Hospital for Sick Children, with his parents by his bedside. Although this was a difficult time for the family, Kelly-Anne remembers some lovely moments spent at the Hospital with Oliver, their family and the medical team. At 7 weeks old, Oliver was baptised in his cubicle in the Intensive Care Unit and everything was done to make this a special event for the family.
"The staff helped us make this as special as possible and to celebrate we were allowed to take Oliver out of the ward for the very first time. We enjoyed some coffee and cake in the hospital café. A truly memorable day".
The Move to Manchester
The decision was made that surgery was Oliver's best chance of a cure. So the following week, Oliver was transferred by air ambulance to the Royal Manchester Children's Hospital, a centre of excellence for the necessary procedure, and the family relocated to Manchester indefinitely.
Oliver endured a long and challenging operation where twenty percent of his pancreas was removed. Having initially responded well, just five days after the operation Oliver took a turn for the worse. Scott and Kelly-Anne felt like they were on a terrifying rollercoaster of emotions made even more challenging as they were 200 miles from their support network. However after a long recovery Oliver was eventually well enough to be taken home in June 2014.
Oliver's Road to Recovery
Although relieved to be taking their baby home, due to everything Oliver had been through, he had lost the instinct to suck. This presented another challenge for Scott and Kelly-Anne, who had to retrain their 5 month old baby to reverse an oral aversion. Despite being told that Oliver wouldn't ever drink milk from a bottle; with a lot of perseverance and support from Yorkhill's Speech and Language therapists, Oliver was drinking all of his milk from a bottle by 11 months old.
We are happy to hear that since his recovery, Oliver has enjoyed being at home with his Mum, Dad and big brother. He now only needs to attend quarterly appointments at Yorkhill, however Kelly-Anne tell us that the Royal Hospital for Sick Children is still a very special and importance place for their family.
Following on from their own experience Oliver's family will be helping to support the thousands of sick children just like Oliver who pass through the doors of the Royal Hospital for Sick Children each year and hope that you will join them in their support.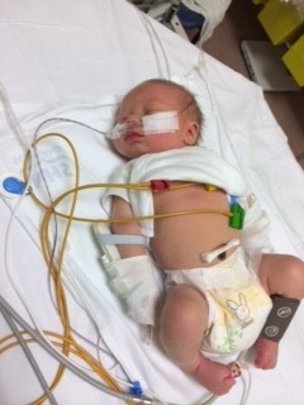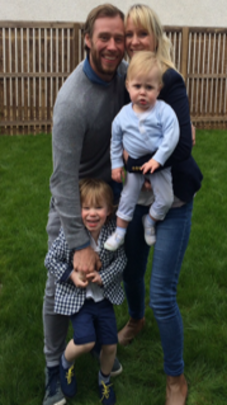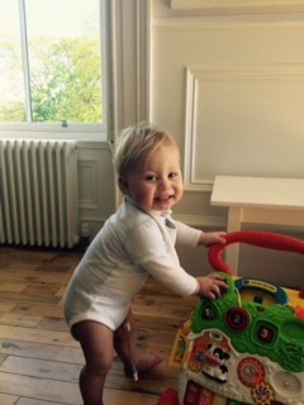 Links: