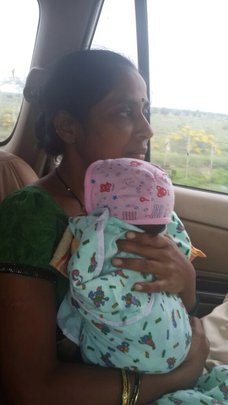 Greetings from Bal Asha Trust!
Thank you for your donations and support during the September Challenge of Global Giving. You helped Bal Asha Trust successfully complete the challenge and get a permanent spot at Global Giving! Thank you.
The donations will help us to provide quality care to children in our care, but also reach out to children who are in great danger in other cities.
Like two weeks back we reached to "Rani". Rani was abandoned about 400 kms from Mumbai in rural Maharashtra. She was abandoned near a lime tree in a village when she was only a few weeks old. She was admitted in a local child care centre by the police.
On primary medical investigation it was found that the child was HIV positive. The child care centre did not have the required expertise to give Rani medical and nutritional support. The said centre called us for help! Bal Asha Trust was too happy to give Rani a home.
After necessary permission were received. We travelled to the city where Rani was located. It took almost 10 hours of continuous journey to reach the town.
We met Rani she is physically small for her age. Nurse "Meena" from Bal Asha immediately took her in the arms. She changed her in new clothes. After finishing the paperwork. We started back on our journey to Mumbai.
The journey was very emotional for us. We could not stop looking at this beautiful little girl. It took us almost 12 hours for us to reach back to Mumbai. We took regular stops so Rani could have her feeds without much trouble due to the bumpy road.
We were surprised that after few hours, this little girl looked in our eyes and smiled. Rani reached Bal Asha Trust safely. She has already settled in well. Rani is seeing a pediatrician regularly. Dr. Fazal Nabi has conducted all required tests so that we can prepare a plan for her speedy improvement in her health.
Thank you for supporting us, so together we could reach to Rani. I assure you together we will continue to help children and keep giving abandoned children a home full of love and care!
Kind Regards,