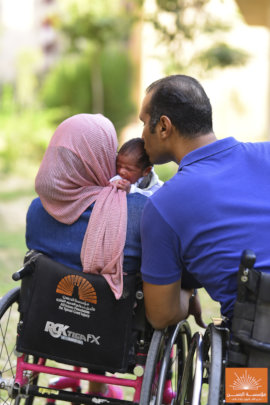 Dear Alhassan Foundation's friends, believers and supporters,
Happy New Year!
Alhassan Foundation is starting this new year with some exciting news! The Arabic version of Gary Karp's "Life on wheels" will be officially released next Book Fair, by the end of January. We worked hard for over a year to make that possible and, finally, it is paying off!
That book will be like a user guide for wheelchair users; teaches them how to cope with their new life circumstances after their spinal cord injury. It will not only help wheelchair users adapt to their new challenge, it will also help their families and friends understand what their loved ones are going through and what they can do to support and motivate them.
That book along with our CD's, that teach activities of daily life, and the peer counseling sessions we periodically hold will work hand in hand to plant the "Yes, I can!" attitude in our beneficiaries and empower them physically and psychologically.
Beside the physical and psychological empowerment, we also offer social empowerment through our latest initiative "Bliss" which is a service that aims to help wheelchair users embrace the social aspect of life. We are now working with new couples to make their dreams of having a baby come true!
With the three above-mentioned rehabilitation fronts that we cover – physical, psychological and social – we complete our beneficiaries' circle of life and lead them to an independent and inclusive life.
We would like to thank every one of you for your support. We urge you to continue supporting our cause and staying loyal donors to our cause through subscribing to a monthly recurring donation option. That will help wheelchair users in Egypt be more confident and accomplished. Please visit our Facebook page to read other success stories:
https://www.facebook.com/AlhassanFDN/
Thank you for believing in the differently abled. :)