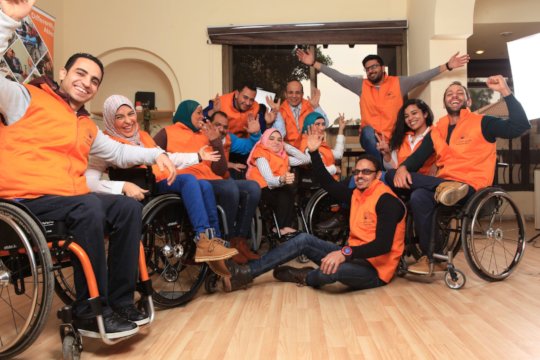 Dear Alhassan donors, supporters, and believers,

Our "Source of Income" project branches into 2 subprojects: employment and SMEs. Through these two subprojects, we were able to achieve financial independence to our beneficiaries; enable them to be bread earners NOT a burden.
Given the rough times, we've been all going through due to the COVID-19 pandemic, we are seeking your support to be able to survive this tough time and cover the operational expenses and salaries of our employees, who are mostly wheelchair users, while working from home. Your donation will help us continue serving wheelers across Egypt and financially weather the hard time we're all going through. In the last period, we pay more than $10,000 monthly salaries and over $38,000 operational expenses.
We're trying to offer our beneficiaries services to support them during this tough time. As a result, we collaborated with an online academy "E3ml Business" that offers occupational skills and soft skills training in Arabic. We used our database and ERP system to search and filter through our beneficiaries to find who is currently looking for a job. These types of skills, the academy offers, give applicants an edge and make them strong candidates to pursue the job they want.
Before quarantine, we were able to hire 24 beneficiaries in different reputable entities in Egypt. One of them is Esraa who now works at the operations department in one of Egypt's reputable banks. We're also currently networking with different entities to employ our qualified beneficiaries in suitable jobs. Some are already accepted in these jobs and will be employed after quarantine is over.
We would like to thank each and every one of you for your support. We urge you to continue supporting our cause and stay our enthusiastic donor through subscribing to a monthly recurring donation which will help to secure more funds to help wheelchair users in Egypt be financially independent.

If you have any job opportunities or know someone who can help with employment please don't hesitate to contact us at source.income@alhassan-fdn.org

Please visit our Facebook page to read other success stories:

https://www.facebook.com/AlhassanFDN/

Thank you for believing in the differently abled. :)