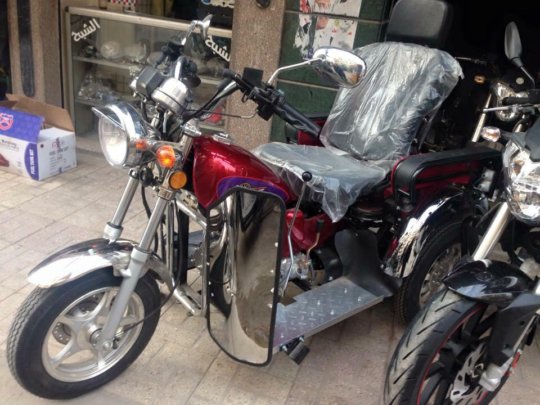 Dear friends, family & donors around the globe,
Hope all is well at ur end. Wishing u all & myself a beautifull 2016.
Throughout 2015 in Alhassan Foundation we were trying our very best to get approvals & enough cash to import an accessible bus to Egypt in order to provide a "pilot" solution for humans who are physically challanged ...
Day by day as we were proceeding with endless paperwork & documentation, we came up with a decision that until we finalize all what is needed to get a bus, we need to come up with a more practical solution that solves transportation problems for humans who are physically challanged & ve no accessible means of mobiling NOW.
Accordingly, after an intensive market study, we signed a contract with z larget factory in Egypt that provides local accessible motorcycles (transportation only) & terecycles (can be used for transportation as well as a business project).
We also currently have an agreement with the ministry of social solidarity who provide us with cases across all Egypt's 27 governorates who are extremly poor, physically challanged & are in desperate need to give them a hand.
For a start, we will proceed with 50 accessible vehicle. 25 motorcycle that costs approx. $1000 per item & 25 terecycle that costs approx. $1500 per item (including taxation, logistics; paperwork & operations)
This project is very suitable for companies as part of their CSR activities; falls under ZAKAT for individual muslims who want to pay their yearly contribution & also for every person around the globe who believs in humanity & the right for ppl to live with z bare minimm dignaty.
We as Alhassan Foundation are very optimistic regarding our "Accessible Ride" project & looking forward that you will be sharing with us to be able to reach our target nr within the coming 6 month God willing.
Appriciate sharing our news with ur frieends, family & loved ones. Kindly visit our FB page. I asure you, you will be happy seeing that such a foundation exisits in Egypt and the Middle East.
Warm wishes & love to u all
May
Links: