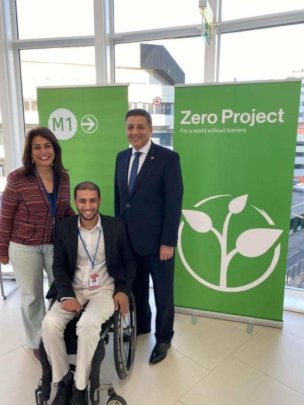 Dear Alhassan donors, supporters and believers,

Thank you for donating to Social Awareness about Differently Abled in Egypt project. This project is mainly what our mission and vision are about. We believe that by changing the mentality of people and how they perceive physically-challenged people, we will spend less time and effort demanding wheelchair users' basic human rights; it'll be a given to consider their needs.
In 2019, we participated in the UN's Zero Project competition in Vienna and won as one of the most innovative practices that enable persons with disabilities to live independently. At the end of 2019, we were approached by the Zero Project committee and were asked to participate as speakers in 2020's Zero Project Conference.
Zero Project Conference 2020 has its focus on Education, specifically Inclusive Education and ICT (Information and Communication Technology). This category showcases innovations that allow young persons with disabilities to access education opportunities. Ms. May, our Founder and CEO, along with Mr. Alhassan, Vice President of Board of Trustees, participated in a session that showcases approaches to increasing access to sports, health, leisure and wellbeing education and sharing good practice in these fields.
Mr. Alhassan shared his story and how wheelchair basketball helped him cope with his physical challenge after the accident and enabled him to get a better education opportunity in Arlington University and get his bachelor's degree then dual master's degree.
Also as part of our social awareness initiatives, we target schools and universities to raise students' and faculty's awareness about the differently Abled. Accordingly, Mr, Alhassan gave a speech in the American International School in Egypt. He talked about the challenges he faced and how he overcame them and how he became the first Egyptian and Arab Wheelchair Basketball player in the US.
We're currently planning a fun day for kids in which kids of different ages can meet each other and play while their parents can exchange information and experiences with each other. We will share the event's highlights in our next report so stay tuned!
Thank you dear donors for your donations; your support is what enables us in our mission so we urge you to continue supporting our cause and stay loyal donors to our cause through subscribing to a monthly recurring donation option. That will help kids on wheelchair in Egypt be more confident and accomplished.

Please visit our Facebook page to read other success stories:


https://www.facebook.com/AlhassanFDN/

Thank you for believing in the differently abled. :)