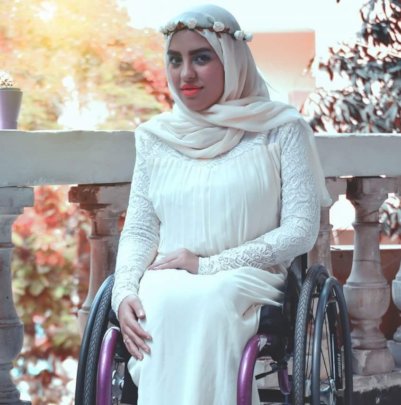 Dear all Alhassan Foundation's friends, believers & supporters,
Let's all celebrate life together with providing another person with hope to live his life with less daily challenges due to his physical condition. With less than $3000 you are pulling a person from depression to hope, and from living a useless life to searching for his/her mission in life.
I won't be exaggerating if I told you that providing this customized wheelchair, which is tailored made for the person based on his/her health condition or injury, height, weight, and needs, is actually changing their lives. Riding this efficient light-weighted wheelchair made their daily lives easier, which encouraged them to be more confident in their ability, and have self-esteem. This wheelchair is proving our slogan, which is we are not disabled we are DIFFERENTLY ABLED.
One of our previously beneficiary and currently employee in our beloved foundation used to feel insecure in her old traditional wheelchair, but after receiving her customized wheelchair, which is tailored exactly to suit her condition (Atrophy of muscles) decided to be the 1st model on wheelchair in Egypt. She knows that the modeling industry is all about appearance, but she had this amazing self-esteem & enthusiasm that pushed her to take this major initiative and she is still trying to change society's perception about wheelchair users through also participating in a dancing team that includes wheelchair users as performers. Changing lives can be as simple as changing a wheelchair!
Check her story here:
http://whatwomenwant-mag.com/2016/06/08/rania-roushdy-egypts-first-wheelchair-using-mode
We also provide electric wheelchairs for Quadriplegia cases and adjustable wheelchairs for kids to fit their age & condition. Adding to that we are also providng a periodic maintenance for this customized wheelchair through our 1st and only customized wheelchair maintenance service in Egypt to guarantee its sustainability.

We would like to thank each and every one of you for your support. We urge you to continue supporting our cause and stay loyal donors to our cause through subscribing to a monthly recurring donation option. That will help wheelchair users in Egypt be more confident and accomplished. Please visit our Facebook page to read other success stories:
https://www.facebook.com/AlhassanFDN/
Thank you for believing in the differently abled. :)